Well, it's been a great ride folks,  twenty-two years as a matter of fact,  but it is time for a change … so this is my last day at the Twelfth Fret.  After building guitars professionally from '74 to '86,  I started doing some repair and restoration work here at the Fret back in the eighties,  then Grant took me on as a partner in 1990.  In some ways my tenure here seems like a long time and in others it's gone by in the blink of an eye!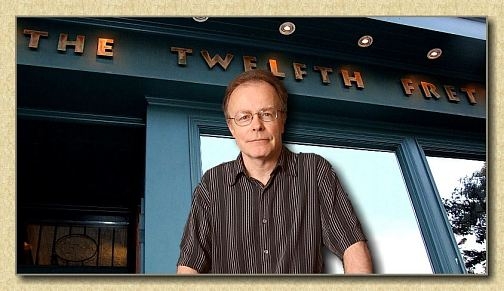 I've certainly made some life-long friends and have a lot of fond memories from the last couple of decades.  I can still remember getting our first computer here at the store.  Heck,  most of us could barely type!  As a matter of fact I recall the day a gentleman came in to try and talk us into selling guitars over the "world wide web" … the silliest idea I'd ever heard of!  I think we sold a few sets of strings over the net that first year … things have definitely picked up since then.  I somehow got the job of trying to figure out how to take photos of guitars and update the web site, which was a bit of a stretch for someone who struggled just to get through high school.  It was a challenge but a lot of fun never the less!  This task took more and more of my time over the years until recently,  when it became my full time pursuit.  It's time though to hand the web site over to the next generation who will take it to a more professional level.
So this is just a quick thanks to all of you out there who have put up with my funky grammar and endless exclamation marks for all of these years!  You will all of course, continue to be in good hands with Grant still at the helm and a crew of both veterans and the new generation of Twelfth Fret staff to give you great service.
Cheers!
David Wren
Wren Guitar Works
To our Friends and Customers:
Dozens of wonderful emails and notes have been pouring in over the past 2 days. On Dave's behalf, I want to thank everyone for their warm and thoughtful words. I will be keeping them all on file and passing them on to Dave when he returns from his summer vacation. I'm sure they will be greatly appreciated.
Though I've known for several months now that David would be leaving, it did not sink in until these past few days as Dave began to tidy up his desk and say his goodbyes.
I got to know Dave in the 70s and 80s as his customer when I was lucky enough to acquire a new handmade Wren acoustic guitar. Later in the 80s Dave joined the Twelfth Fret, first as a repairman then in 1990 Dave became my full partner at The Twelfth Fret. I've always considered my decision to offer Dave a partnership as THE best initiative of my career at The Twelfth Fret. Our partnership was extremely successful. Our skills and talents complement each other well and the company grew quickly under our joint leadership.
Retail is a demanding and stressful pursuit and Dave and I spent more time together over the past 20 years than is healthy ! (grin) But our partnership and friendship has remained strong throughout.
Over the past couple of years, Dave's focus changed from the hurly-burly of retail sales as he immersed himself more deeply as webmaster of the Twelfth Fret web site. The web site proved to be an enormously positive outlet for Dave's artistic genius. With no training what-so-ever, he created a website that has proven to be a benchmark for sites all over the world. He can take great pride in this achievement and in the incredibly successful business that we have built together.
All that said, there comes a time in everyone's life when they look for something new. It took courage for Dave to step back from his life here at Twelfth Fret and look to his future. I can imagine that it was very difficult to come to this monumental decision and though I will miss him dearly, I know his future is bright.
For the short term, Dave is on vacation and he plans to depressurize for a month or two…smell the daisies as it were. Here at the shop we all hope to see him building Wren guitars again as well as hopefully being involved in various short term 12th fret projects as his time permits.
On a personal note, the Wren and MacNeill families are very close. We routinely travel together and our lives have been thoroughly intertwined with very positive results. Though Dave will be by and large gone from my daytime work life, Sue and I will remain best friends with Dave, Debbie and the kids.
Best of luck partner…I am really going to miss ya !
Grant MacNeill