The Deering Tenbrooks Banjo: the Saratoga Star shares all of the upgraded hardware and unparalleled Tenbrooks tone ring from the Rüetschi Bell Foundry, but features a highly flamed maple neck and resonator.
Most players agree that a maple neck and resonator add a subtle degree of brightness and clarity to the overall tonality of a banjo. While the Tenbrooks Legacy is a very powerful instrument that will be heard within any band mix, it also has a slightly rounder overall tonality.
The Tenbrooks Sarasota Star was developed for the professional who wants slightly more edge with a brighter tone!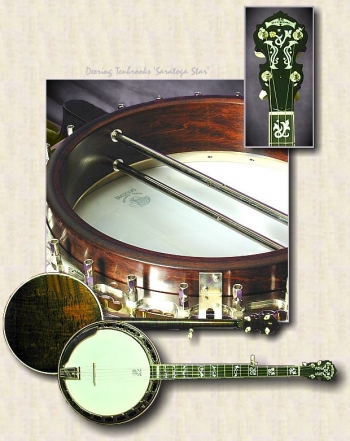 Specifications
* custom Tenbrooks tone ring designed by
Jens Krüger and the Swiss Rüetschi Bell Foundry
* custom Greg Deering designed inlays
* custom fully adjustable tailpiece cast with
tone specific alloy
* redesigned tuning ultra precision tuning pegs
* custom light one-piece Zinc flange
* custom streamlined armrest
* traditional soft-V neck profile
* traditional Paramount peghead profile
* curly maple neck
* deep maple resonator with tapered side walls
* 3-ply rock maple rim
* lifetime warranty
Check out some of the artists using Deering Bluegrass banjos here!
Check out Grant's Banjo Setup Q&A
You can preview our videos now on Our YouTube Channel!

What we like: Deering Banjos
Deering Banjos, Tenbrooks Banjos, Vega Banjos, Goodtime Banjos — all made in the USA by the Deering Banjo company.
We keep an inventory of over 200 Deering banjos at all times, with 40 models including virtually all the Deering 5 string banjos, several Deering 6 string and Tenor models, plus the Vega open back 5 string models, the elite Tenbrooks 5 strings and a huge offering of the entry level Goodtime line of banjos.
Email or call any time with questions.


We have 6 full time luthiers on staff with the expertise to setup and service your instruments. All banjos we sill will be very thoroughly setup to suit your right hand attack and playing action expectations. Head tension, action, nut height, bridge and tailpiece positioning and installation of 5th string capo tacks are issues that we deal with as each and every banjo is sold. Plus there is no charge for follow-up adjustments on new banjos for the first year.