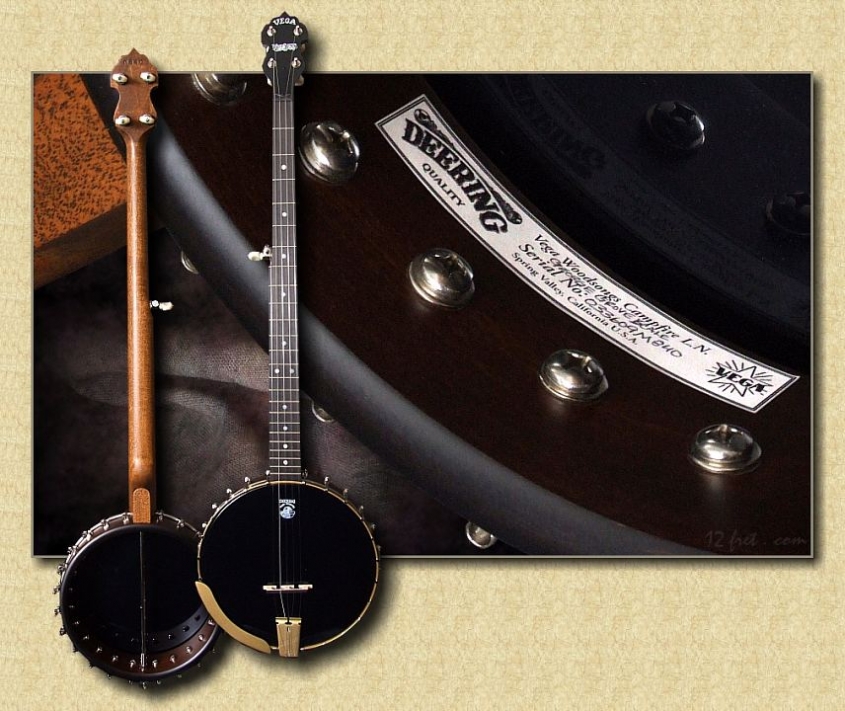 I've always loved the big E tuning on long neck banjos but at 5' 7" tall, I've found these 32" scale length necks just too big to handle.
At the January LA NAMM show the new Kingston Trio Signature Tom Dooley model was displayed. It features the Tom Dooley Hangman's noose inlay on the fretboard plus a custom 30 ¼" shorter long neck scale.
At $15,000 retail price it was out of my reach. ( just a bit …grin)
But…Greg Deering agreed to custom build the Vega Campfire Longneck model in this special 30 ¼ scale length.
No issues in getting a big fat tone out of the open E tuning.
The low B 4th string plays cleaner than the B on a regular 32" long neck but still has that classic long neck bass growl…and far easier to play due to the narrower fret spacing and shorter reach to the 1st fret area.
In my humble opinion, this 30 ¼" scale should make regular long necks obsolete !!
Upcharge for the custom neck is $300 Canadian. Well worth it for the long term comfort.
Specifications
* 1 5/16″ wide nut
* ebony fingerboard with dot markers
* adjustable truss rod
* 30 3/16″ scale length
* double coordinator rods
* Planetary tuners
* geared 5th peg
* 3-ply rim
* 11″ high crown Black Deering head
* Gold powder-coated armrest, tailpiece and tension hoop
* nickel hooks, nuts and tuning machines
* deluxe hardshell case

Check out Grant's Banjo Setup Q&A
You can preview our videos now on Our YouTube Channel!