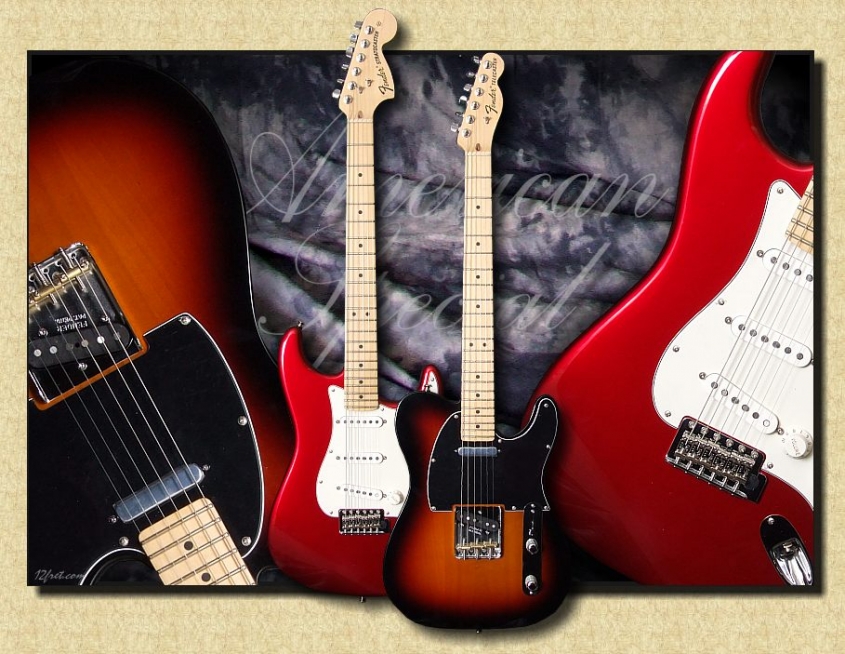 To this day, I have a very clear memory of getting my first guitar. Not the old no-name copy from the 70′s my dad gave me to bang around on, but my first real guitar of my own. I was 14 years old. My ever supportive Grandparents had seen how much time and energy I was pouring into learning how to play, and surprised me one day with an offer too good to be true: "Why don't you go out and pick yourself a better guitar".
It took me a moment to recover, but a clear image of my dream guitar was already forming in my mind. My two musical heroes growing up were Jimi Hendrix and The Edge, so of course I had to get a Fender Strat. A black one…. with a maple fingerboard. I could picture it clear as day. It would be mine. Oh yes…
My trip to the guitar store was surprisingly quick. Never one to put thought or planning into a major decision, I walked over to the row of Strats hanging high on the wall, found the one that looked like my dream guitar, and picked it up. It was an American Standard. There were dozens of other Stratocasters around me, but there was something about the classic elegance of the standard model that just felt right to me. This guitar is what legends have been playing for 50 years, and will continue to play for generations to come.
My Fender Stratocaster has been my baby ever since that day. Guitars come, guitars go, but my Strat is here to stay. Since then, I've added 3 Teles and a Jaguar to my collection. And I'm not alone. There are literally thousands of guitar players out there who have been drawn to a Fender the same way I was. For many, the icing on the cake is how affordable Fender guitars have always been. For a little over a grand, you can take home a pro level American made axe.
With that in mind, it could be said that Fender fans have it a little easier than other musicians when it comes to the drain on our wallets. Next time you meet a violin player, ask how much their concert instrument cost them! A grand doesn't sound quite so bad now, does it? Well, to be safe, Fender just made things easier for us than ever before.
* Warning: If you are a violin player, you might want to stop reading before you burst into tears. *
At this year's NAMM show, Fender introduced the new American Special series of Stratocasters and Telecasters. Now more than ever, Fender has built a guitar for the masses without sacrificing sound, feel, looks, or quality.
The American Special guitars all feature a gloss urethane finish, vintage style bridge hardware, alder body, and Texas Special Alnico Pickups. Both the Strats and Teles have the rock solid feel I expect from an American Made Fender, and all the charm and personality my ears wanted to hear; nothing watered down about them. Here's the kicker… you get all this for under a grand!
Holding the new American Special Strat for the first time, I couldn't help but feel a little giddy. It's like I'm 14 all over again. Wait a minute… the more I think about it, the more I realize I don't ever want to be 14 again (shudders). I'll just have to settle for showing the Fender American Specials to kids who come up to me and say "I'm looking for my first real guitar…"
- Nevin Douglas
Current Canadian MAP Price: $1249.00 Canadian Dollars
Specifications
* Alder body
* Gloss Urethane Finish
* Texas Special Alnico Pickups
* 22 Jumbo Frets
* Maple Neck w/ Satin Finish
* 9.5″ Radius Fingerboard
* Standard Cast Fender Tuners
* Vintage Style Synchronized Trem w/ Narrow Saddle Spacing (Strat)
* Vintage Style Bridge w/3 Brass Bar Saddles (Tele)
* Greasebucket Tone Circuit
* Includes Deluxe Fender Gig Bag