Hiscox Musical Instrument Cases are made in the Staffordshire England to the highest standards. These ultra-light weight cases are "flight worthy" and should protect your instrument in most circumstances encountered in airline travel.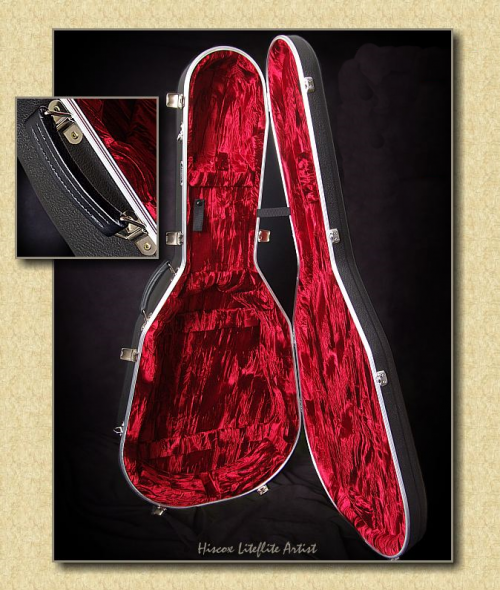 The construction is moulded, high impact resistant A.B.S. plastic outer shell, bonded directly to an inner moulding of cellular foam. This inner moulding is feather light and semi-rigid; designed to soak up impact shocks from the outside world. The unique bonding of the inner moulding to the outer shell gives structural rigidity which is unmatched by any other case in this price range.
The case lining is a crushed velvet type fabric bonded directly onto the shaped foam. Extra cushioning is provided by upholstered pads in the PRO and Artist ranges which are factory fitted in key areas.
The aluminium valance increases the rigidity of the case and ensures a positive location of lid to base. Unlike any other case available on the market, the valance extends deep inside the case behind the plastic shell, into which all the hardware (handles, catches, hinges etc.) is riveted. This method of fixing greatly reduces the possibility of fittings working loose.
Exhibiting incredible structural rigidity, all Hiscox Liteflite cases have enormous crush strength with their standard case range tested to over 500kg (five fully grown people)!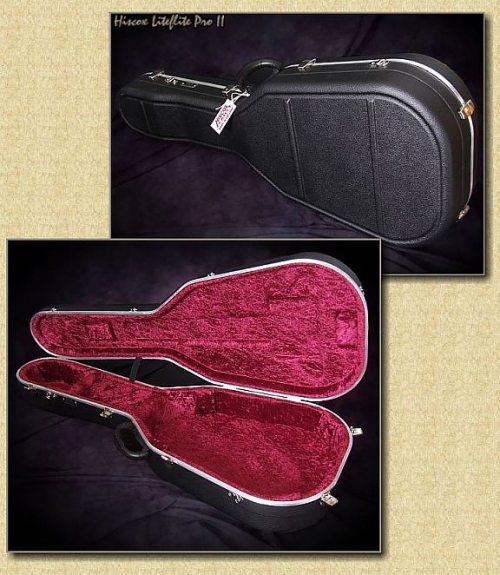 Specifications
Hiscox Liteflite Pro II


Medium Duty
The Hiscox Liteflite Pro II GAD Acoustic Guitar Case

The Hiscox Liteflite Pro II GCL Classical Guitar Case

The Hiscox Liteflite Pro II MAN Mandolin Case

* weight: 10.35 lb
* Outer shell 2.0mm thick
* Steel 'D' rings fitted for strap fixing.
* Soft foam cushion padding fitted at key areas around the instrument for extra shock protection.
Dreadnought acoustic: Pro-11 GAD-EX
OM & OOO size Pro-11 GAD-EX
Classical: Pro-11 GLC-L-EX
Liteflite Artist


Maximum Heavy duty
The Hiscox Liteflite Artist GAD Acoustic Guitar Case Creme

The Hiscox Liteflite Artist GAD Acoustic Guitar Case Black

Specifications for the Hiscox Liteflite Artist
* weight: 12.55 lb
* Outer shell 2.5mm thick
* Fully hardened aluminium valance for increased rigidity
* More heavily padded interior finished in deluxe velour
* leather handle
* 5 extra heavy catches
* Hygrometer (Not Scientific quality
* 2″ wide carrying strap included.
Dreadnought acoustic LA-GAD-EX
OM & OOO size LA-OOO-EX
Classical: LA-GCL-L-EX
Hiscox Original Liteflite Case
Available for Electric Guitars Only

* Electric case weight: 9.35 lb
* outer shell 1.5mm thick
Electric Gibson Les Paul: STD-EG-EX
Electric Fender Strat/Tele: STD-EF-EX
---
You can preview our videos now on Our YouTube Channel!
You can now Visit our Facebook page!2