The Sunrise Pickup system has earned the respect of professional players on stage and in the studio for over 25 years. In that time it has proven itself as a reliable, tough, professional unit. This pickup and matching preamp represents the ultimate in the uncompromising search for a truly acoustic guitar sound capable of high sound pressure levels.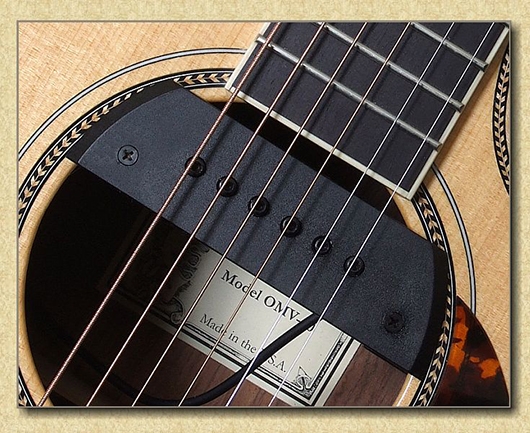 The Sunrise Pickup system mounts securely into any soundhole 3 1/2″ to 4 1/4″ in diameter. A 24 inch long wire cable permits easy internal permanent installation or can be run out of the soundhole for temporary installations.
As an option they can be wired with endpin and mini connectors, allowing easy removal if desired. That said, the risk through the mini-connectors means that few players want this option and hard wiring direct to the output jack offers the best reliability.
Sunrise Pickups work equally well for 6 and 12 string guitars, right or left-handed. All Sunrise Pickups have the unique design feature that allows the pickup to couple and sense the body resonance and top of the guitar its mounted in, and still maintain a 116dB feedback threshold. The string volumes can be set with 6 adjustable pole-pieces. The pickups have an injection molded black ABS composite housing sealed in epoxy, and are completely shielded from RF and hum.
Our current price for the Sunrise S-1 LR pickup is $409.00 Canadian.
Note that we can also supply output jacks: either a flush mount mono Switchcraft 151 barrel jack or a standard endpin jack with strap mounting ferrule.
You can preview our videos now on Our YouTube Channel!
You can now Visit our Facebook page!