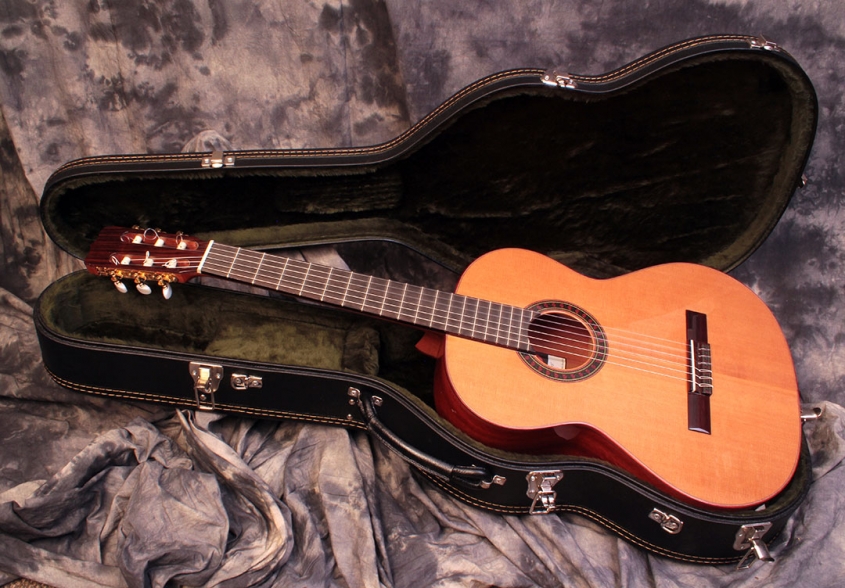 Spain is famous for fine wines and superb guitars, and the Ramirez Serie Del Vino guitars celebrate the shared Spanish heritage of guitars and wines.
This lovely new model has several unique features:
Serial Number
This example is number 91
Pricing
Pricing: Please contact us for pricing. This instrument is available on order.

Neck
Honduras neck with ebony fingerboard. 650mm scale length, 52mm nut width.
Body
Solid Padauk back and sides. One of the most beautiful of tropical tone-woods, Padauk is very similar to Rosewood in voice and projection.

Note: Padauk is commonly called Coral Wood in Spain and Tulipwood elsewhere in the world.

The solid Padauk back has a center strip of figured Spanish oak to acknowledge the aging of Spain's finest wines in oak barrels. The Top and back are bound in Padauk.

The solid cedar tops seem to have been selected specifically for colour, to match the rosé coloured shade of the Padauk back and sides. The visual effect is quite lovely!

Rosette and bridge tie-block: a unique marquetry pattern picturing bunches of grapes on a forest green background.

Finish
Gloss lacquer finish with a rosé tint
Hardware/electronics
Bone nut and saddle, Gold deluxe tuners with pearloid buttons.
Playability/Action
We will of course set the instrument up to meet the requirements of your technique.
Case
Ramirez hardshell case included.
Comments
Tonally this guitar projects well with the full throaty bass and treble balance that one expects from a Ramírez guitar.
Setup for new Ramirez guitars.
We carefully inspect and setup all new Ramirez guitars to ensure that they are in perfect working order.
Generally the "factory action" is in the range of 8/64" treble and 8.5/64" bass, which is the normal range of standard classical "concert" action height for players using typical classical right hand technique with an aggressive light right-hand attack.
Nut height: we always adjust the nut slots to our preferred settings.
We will do any setup adjustments the purchaser requires and install new strings of their choice for no extra cost.
 If you are playing in the Latin jazz style with free-stroke right hand technique and don't anticipate using an aggressive rest stroke, then we would advise that we lower the action before shipping.    
If you are an aggressive player, then I would recommend staying with the current "standard" action height.
It is a given that we will setup any guitar we sell to suit the player. It is best if you can provide as much information as possible about your playing style so we can make an informed decision on how to setup the guitar:
– your right hand picking attack; free stroke vs. rest-stroke
– Classical right hand position vs. Chet or Latin style hand position
– your estimation of your normal action height on your current guitars (low vs. medium or high, or actual measurements between the top of the fret and bottom of the string)
– and anything else that will help us to setup your guitar appropriately.

What We Like-Ramirez Guitars
Ramirez guitars – we carry 12 models with over 50 new Ramirez guitars in stock at all times!
Models we stock include the NE and 130th Anniversary Series guitars in both Cedar and Spruce tops; the CWE Cutaway with pickup models, flamenco models and the Professional 1a and Concert SP models.
Email or call any time with questions. We'll answer!
We have 6 full time luthiers on staff with the expertise to setup and service your instruments. All Ramirez guitars will be very thoroughly setup to suit your right hand attack and playing action expectations.
Read more at the links below
---
You can preview our videos now on Our YouTube Channel!
You can now Visit our Facebook page!