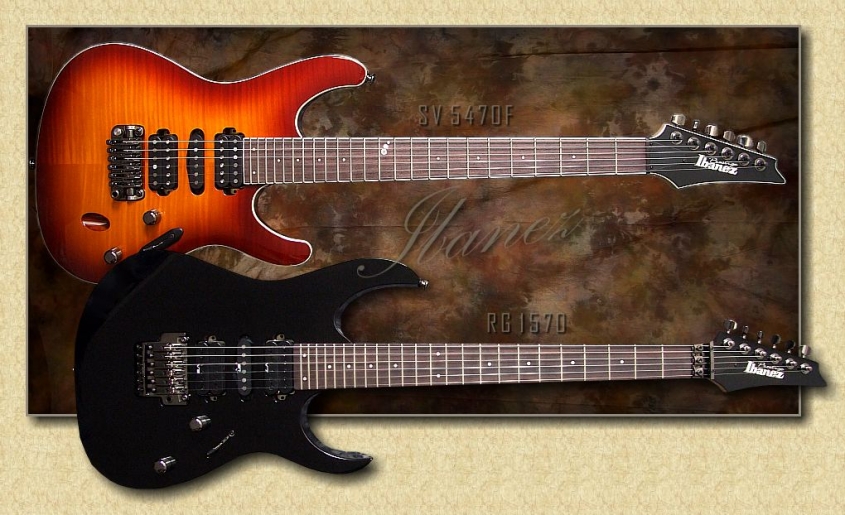 This Prestige RG1570 in sunburst #F0916113 is on sale with full warranty due to some slight shop wear.
SOLD
Regular price: $1999
Sale price: $1599
RG Tremolo models stand up to the most abusive whammy bar users around, while still maintaining perfect tuning stability. Lightning fast fretboard work is no problem with RGtremolo the Wizard neck, flat fingerboard and jumbo frets. The Edge-Pro makes use of several innovations in tremolo design. A Sound Metal Chip is present on each saddle to increase sustain at the most critical point of contact, the intonation point. The string holder blocks are part of the bridge, so you don't have to worry about them falling out when changing strings. You can also install new strings on the Edge-Pro without having to cut the ball end off!

Specifications
5pc Wizard Maple/Walnut neck
Basswood body
Jumbo frets
Edge Pro bridge
V7 (H) neck pu
S1 (S) mid pu
V8 (H) bridge pu
hardware color Cosmo Black
Neck Dimension
Scale 648mm/25.5″
a : Width at Nut 43mm
b : Width at Last Fret 58mm
c: Thickness at 1st 18mm
d : Thickness at 12th 20mm
Radius 430mmR
---
You can preview our videos now on Our YouTube Channel!
You can now Visit our Facebook page!