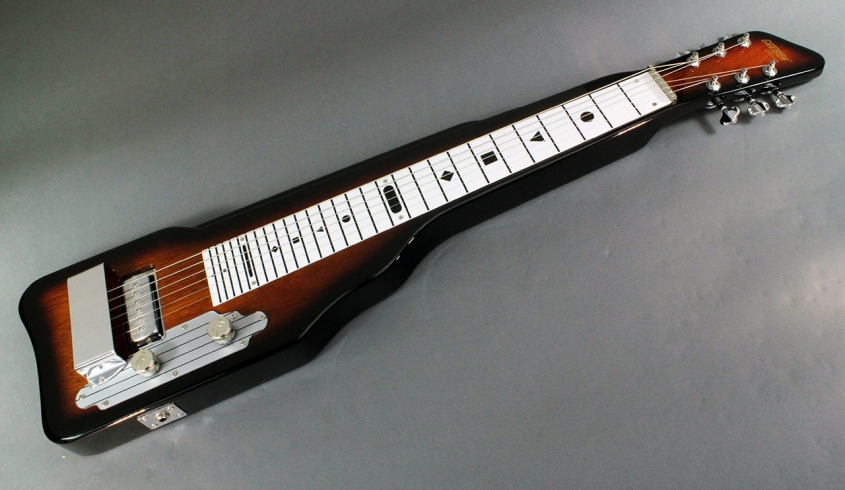 Serial Number
Varies, this is CYG11030163, Made in China.
Pricing
$350 CND, without case.

Neck
22.5″ (57.15 cm)scale length, nut width is 1.875″ (47.6 mm)
Frets
No frets on a lap steel, but this instrument uses a plastic marker board with high visibility. Many lap steels, including this one, use shapes to indicate the 'fret' sections. Gretsch uses here a circle, triangle, square, diamond, and oval for the octave.

Body
Mahogany slab body.
Finish
Gloss urethane finish; tobacco sunburst on top, black on sides and back. Also available in Black Sparkle.
Hardware/electronics
Metal nut and saddle for consistent bright tone. Enclosed tuning gears with shaped buttons. Deco-style control plate and G-Arrow knobs. Output jack is on the treble edge. Chromed bridge cover, chrome string ferrules on the back; the strings go through the body as on a Fender Telecaster. One single-coil Gretsch pickup.
Playability/Action
This is a very comfortable little instrument,and lap steels are really under-appreciated given what they can do.
Case
Case not included.
Comments
Lap steels used to be very common, but in the late 1950′s were directly supplanted by the invention of the pedal steel, and overwhelmed by the popularity and availability of the electric guitar.

However, lap steels offer a wonderful range of musical possibilities, without requiring much physical effort; issues that might prevent one from comfortably playing a guitar – RSI injuries, for example – generally don't get in the way of using a steel guitar. It's not hard to get really good, musical results from these instruments, even from the comfort of your couch!

We're working on a feature demonstrating some of the possibities of the lap steel – and some of the reasons you need to own at least one. Check back; this bit of text will be replaced by the link to that feature.
---
You can preview our videos now on Our YouTube Channel!
You can now Visit our Facebook page!