Another Fender, built in 1969, has landed in our showroom!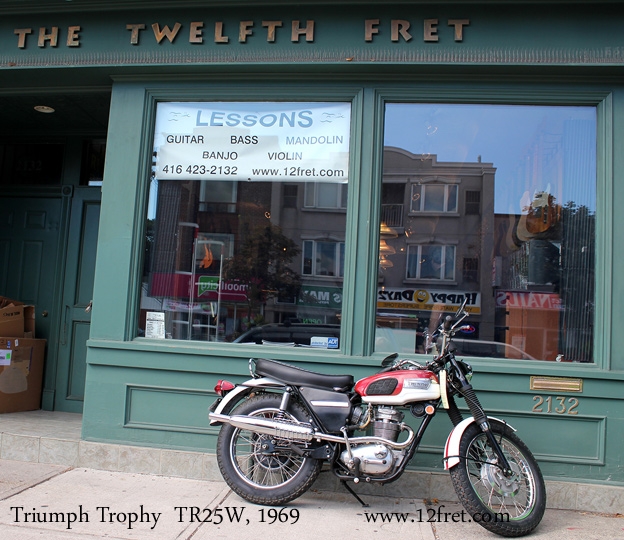 This Fender happens to be attached to a Triumph Trophy TR25W, built in England in 1969
This 250 cc Street/Scrambler is in brand new, fully restored condition.
It was faithfully restored in Missouri , USA by a retired BSA mechanic who spared no expense.
I had a Boyer-Brandsen Solid State ignition installed for 100% reliable starting. The Zener Diode on the front forks is just there for looks.
My service work is done here in Toronto by THE vintage motorcycle guru-mechanic; Mike Turner of BAS Cycle !
Specs:
Power – 22 bhp
Displacement – 250cc
Weight – 330 lb
Top speed – 80 mph
Dry Sump lubrication
Boyer-Brandson ignition
4 speed transmission w/wet clutch
Unusual for a British bike – the engine and transmission are oil tight !
When I was a teenager, many, many, MANY years ago, these fast and light weight scramblers were plentiful. My generation of young riders drove the livin' daylights out of them – paying little or no attention to proper maintenance. Any untouched "barn find" 250cc singles you might find will be in dire need of total overhaul.
So I was thrilled when I found this TR25 that been professionally restored.
BSA acquired Triumph in 1951 though by and large Triumph and BSA bikes differed in appearance and features. From the point of view of "Joe-Public" they were different motorcycles made by different companies. In the late 1960s BSA started to "re-badge" some BSA models with Triumph badges and tanks; the Triumph TR25W Scrambler and the B-25 Starfire are probably the best example.
Though the TR25W and B-25 are arguably the same bike, I love the look of the Triumph tank and the street-bike scrambler lines of the Triumph.
Beginning in 1958 as the BSA C15, the 250 cc design went through constant improvements; more robust engine components, lubrication, bearings, transmission, frame, brakes, horsepower etc were all drastically improved over the next decade until in 1967 the BSA B-25 and later the Triumph TR-25W were born. If you want to research this further, Roy Bacon's book "BSA Singles Restoration" documents the design improvements in meticulous detail.
You will hear various opinions of the B-25/TR25W bikes. I am convinced the TR25W represents the best of the British-built 250cc bikes. This model was the result of a decade of steady improvements in the engine and engineering. Unfortunately, all these advancements were tossed aside in the 70s as the British motorcycle industry gave its last gasp.
At only 330 pounds the TR-25W is light weight, extremely peppy and maneuverable. And at 43 years old, my TR-25W feels like a new bike to me. A fabulous city bike !
The TR-25 W puts out 22 BHP …22 horse power; a fraction of what modern bikes offer but that power is power one can actually use…at least use "legally". (grin).
The top speed of 80 mph ( 130 km/h ) is plenty on the highway. I find that it cruises comfortably at 60 mph.
If you are interested, this amusing YouTube below is a great fun! Filmed by a rider who owns the same bike and has a similar high opinion of it.
All of my vintage bikes are low displacement singles, light enough that I can easily wheel them around and kick start them without having a heart attack. My mid-weight bikes are all I need to tool around town on a hot summer's evening. I would get stressed out in a crowded Tim Hortons parking lot – trying do maneuver a 550 pound behemoth!!
Modern bikes are nice – fabulously fast and efficient, beautifully crafted in a blend of modern materials, lightweight plastics and high tech metals.
But like modern cars, they do nothing for me. And when I look at a bike I like to see things I can identify…there is the carburetor, the Mag/Dyno or generator…oh… and there is the transmission too.
To me, a modern motorcycle compares to a classic 50s or 60s motorcycle very much like a modern solid state guitar amplifier compares to a vintage tube amplifier. Certainly with the amplifier, the new technology is extremely advanced, reliable and versatile but it is only an imitation or "emulation" of what the vintage tube amp will do.
Similarly, nothing beats the smooth purr of my old thumpers…provided I can get them started of course !!!
Grant MacNeill, Pres, The Twelfth Fret
---
You can preview our videos now on Our YouTube Channel!
You can now Visit our Facebook page!