Ramírez 130th Años, or 130th Anniversary model, "Guitarras de Estudio"  with Ramírez case
---
The Ramirez 125th Años commemorative model was an enormous success for Amalia Ramirez. As 2011 drew to a close, Ramirez Guitar representatives world-wide were concerned that these popular guitars would no longer be available.
Fortunately, this guitar has been reborn as the new 130th Años Model, as the 130th anniversary of the Ramirez family business begins in 2012.
Ramirez has kept the original quality and spirit of the 125 Años guitar alive but redesigned the Rosette and soundhole label for this new model: tone, balance and superb quality of woods throughout remains the same.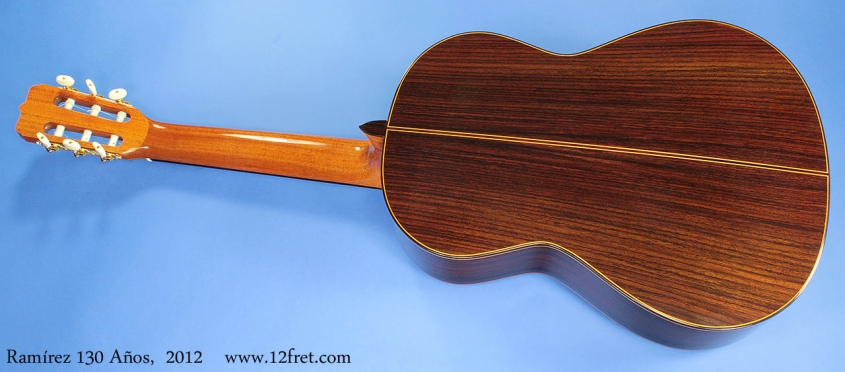 Amalia Ramirez has created the new 130 Anos model as a Limited Edition which will be built during the five years from 2012-2017, celebrating the 130th Anniversary of the Ramirez workshop! It is based on the model E series guitars, originally conceived by Jose Ramirez III.
This instrument features all solid wood construction, a complex asymmetrical 6-fan top strut pattern, a unique custom soundhole mosaic rosette, custom top marquetry perimeter and custom Ramirez label. The headstock shape represents the historical shape most often associated with early vintage Ramirez guitars.
I particularly like the small extension on the back of the bridge; done to protect the top from wear caused by string changes. This is a thoughtful addition than normally would only appear on the most expensive of the Ramirez professional models.
The 130th Años has an extremely wide tone pallet with a wide dynamic range and authoritative overall sonic presence that rivals many concert level instruments!
The design features are uniquely Ramirez in decoration, tone, and quality of sound and materials. These guitars are custom built for Ramirez in limited runs, by select Spanish Luthiers. They are specifically and uniquely built for Ramírez. Although their construction is not directly done by Amalia Ramírez, all guitars are inspected and adjusted in her workshop by her craftsmen under her personal supervision.
Available in Red Cedar top or in German Spruce top; both guitars are identical structurally.
Tonally the Cedar and Spruce top versions have very similar voice. One might hear only subtle differences; more bass power from the Cedar and clearer, more articulate trebles with Spruce. That said, the differences are subtle indeed!
Interestingly, these reasonably priced Spanish guitars have become our single largest selling model in this lower-middle price range; a reflection on the consistently excellent tone and balance of these reasonably priced guitars.
Spring of 2012 represents the beginning of this limited production and we will continue to offer this fine guitar for the next 5 years.
---
Serial Number:
Varies as New.
Pricing: Please contact us for pricing.

Status: In Stock and Available.

---
Click here for the Ramirez 130 Anos Classical Guitar review featuring Gordon O'Brien and Grant MacNeill
Read about the discontinued 125th Años model here
---
Setup for new Ramirez guitars
We carefully inspect and setup all new Ramirez guitars to ensure that they are in perfect working order.
Generally the "factory action" is in the range of 8/64" treble and 8.5/64" bass, which is the normal range of standard classical "concert" action height for players using typical classical right hand technique with an aggressive light right-hand attack.
Nut height: we always adjust the nut slots to our preferred settings.
We will do any setup adjustments the purchaser requires and install new strings of their choice for no extra cost.
If you are playing in the Latin jazz style with free-stroke right hand technique and don't anticipate using an aggressive rest stroke, then we would advise that we lower the action before shipping.
If you are an aggressive player, then I would recommend staying with the current "standard" action height.
It is a given that we will setup any guitar we sell to suit the player. It is best if you can provide as much information as possible about your playing style so we can make an informed decision on how to setup the guitar:
Your right hand picking attack; free stroke vs. rest-stroke
Classical right hand position vs. Chet or Latin style hand position
Your estimation of your normal action height on your current guitars (low vs. medium or high, or actual measurements between the top of the fret and bottom of the string)
And anything else that will help us to setup your guitar appropriately.
---
---
What We Like-Ramirez Guitars
Ramirez guitars – we carry 12 models with over 50 new Ramirez guitars in stock at all times!
Models we stock include the NE and 130th Anniversary Series guitars in both Cedar and Spruce tops; the CWE Cutaway with pickup models, flamenco models and the Professional 1a and Concert SP models.
Email or call any time with questions. We'll answer!
We have 6 full time luthiers on staff with the expertise to setup and service your instruments. All Ramirez guitars will be very thoroughly setup to suit your right hand attack and playing action expectations.
Read more at the links below
---
You can preview our videos now on Our YouTube Channel!
You can now Visit our Facebook page!