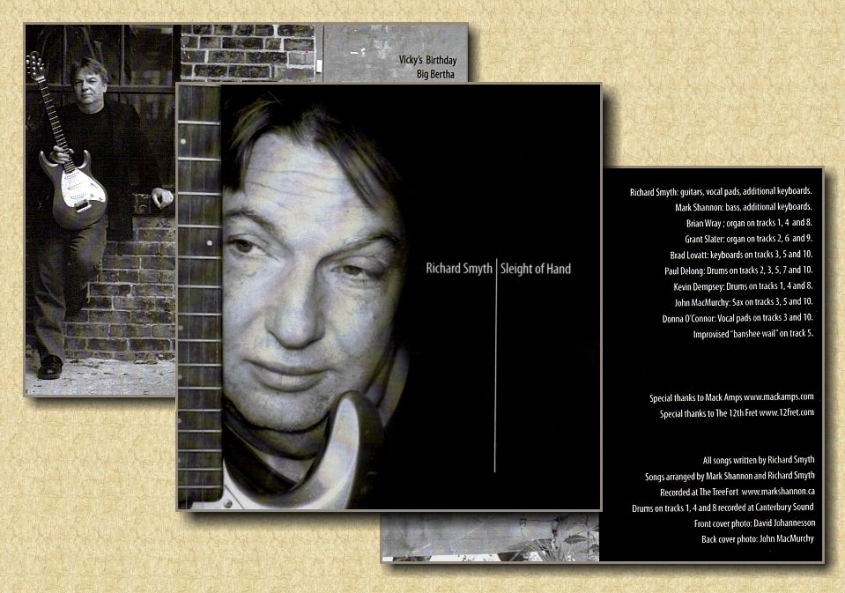 Richard Smyth is a veteran of the Toronto music scene with a busy performance, recording and teaching schedule … so busy in fact, that it has been difficult for him to carve out the time to record & release this CD of his original instrumental music. All of us at the Twelfth Fret have been big fans of Richard's tasteful phrasing, impeccable sense of groove, not to mention his stunning guitar tones … well, for over a decade now! It's great to now be able to throw on this CD and get a generous helping of this gifted musician's work. Having been a student of Richard's popular ModeNomics method, it is also interesting to hear how he applies the techniques that he has been teaching!
Richard's writing & arranging covers a wide range of styles, with great production values and strong performances by top studio players. I've included some short 30 second sound bites to give you a taste of his Robben-Ford-meets-Larry-Carlton musical sensibility!
Link to a review of Sleight of Hand from MusoScribe.com
Link to Richard Smyth's home page
MP3 Audio Samples from Sleight of Hand
Vicky's Birthday
Big Bertha
Brother Ray
Dancing Skeletons
East West
5 Digit Password
Boobs McGillicutty Rides Again
Vic Argeggio
Curves Ahead
Righteous Dude
Purchase Price: $15.00
---
You can preview our videos now on Our YouTube Channel!
You can now Visit our Facebook page!