Wire less. Rock More.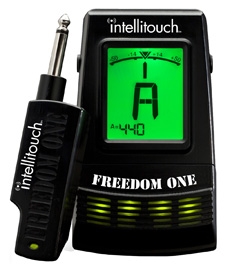 At one point or another, we've all tripped over a cable and thought "There has got to be a better way!" Of course, wireless guitar systems are nothing new; they've been around for ages. But there are several drawbacks that have kept most of us from ever experimenting with one. They can be expensive, difficult to setup and use, and less reliable than a $15 cable.
That being said, I was quite excited to get my hands on the new Freedom One digital wireless system from Intellitouch. The system is clean, simple, and useful. All for just under $100.
A wireless transmitter jack plugs in to your guitar. The transmitter is powered by a single AAA battery, so no belt-clip battery back is required. Your guitar signal is then sent through a 24 bit digital wireless signal (with zero audio compression) to the Freedom One tuner pedal. Building the wireless receiver into a tuner pedal is a smart move; most guitar players use a pedal tuner anyway, so it doesn't feel like you are lugging around any extra gear. The pedal tuner/receiver can be powered from a 9v battery or a standard 9v power supply.
So the real question: how well does it work? Intellitouch boasts a 30-foot wireless range with the Freedom One. In my tests, I found this to be roughly accurate. Signal transmission was strong and clear until I made it 25-30 feet away from the pedal receiver. At the outer range I began to hear some slight breakup and signal loss. Overall, the effective range was more than large enough for most stages.
The only potential drawback to the Freedom One is the pedal tuner itself. The tuner functionality is decently accurate, as is the wireless reception. However, the physical construction of the pedal is lacking. The casing is built using a lightweight plastic rather than metal, making it substantially less durable than the most stomp boxes. But given the $99 price tag, this is an understandable concession. Anyone interested in a decent, affordable wireless system should definitely give the Freedom One a close look.
---
You can preview our videos now on Our YouTube Channel!
You can now Visit our Facebook page!