The ToneRite play-in simulator is now available at The Twelfth Fret! For acoustic guitar, archtop guitars, resophonic guitars and mandolins.
This unique device accelerates the break-in process, noticeably improving tone and volume. Most guitars with less than 1000 hours of playing time will show noticeable results in 2 to 4 weeks time.
Safe to use and gentle on the instrument.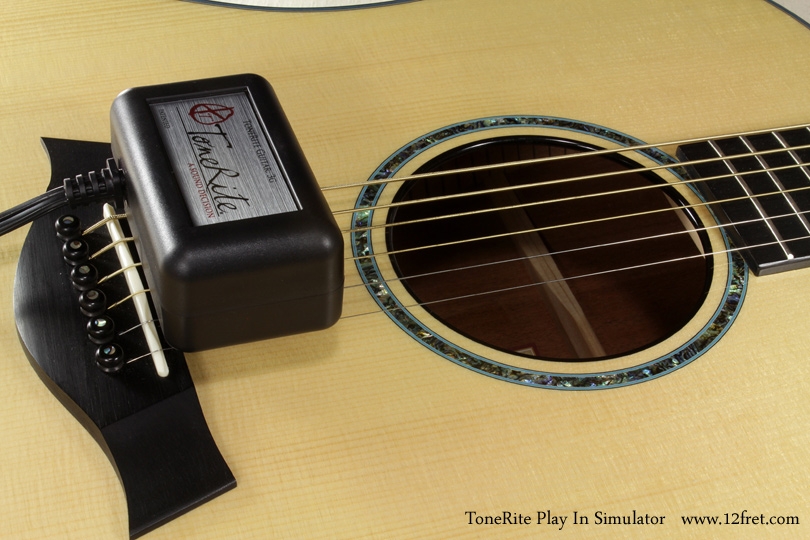 ToneRite Guitar 3G Price: $192.50
ToneRite Mandolin 3G Price: $192.50
Shipping to Canada or Us – $16.
Review:
It can take some real 'convincing' to sell me on new technology. As founder of The Twelfth Fret, in a lifetime of restoration and servicing guitars I've seen hundreds of 'new' guitar accessories come and go. Marketed as the 'best thing since sliced bread most end up pitched into the nearest dust bin.
When first shown the ToneRite, I'm ashamed to say I dismissed it.
(You will see a sheepish expression on my face now. My wife thinks that is my regular face but we won't discuss that).
Guitar makers are aware that a new top is 'tight' and 'grows' significantly over the first few hundred hours of playing time. The initial issues with any newly built guitar: lack of bass power, wolf-tones and treble dead-spots (harmonic nodes) quickly fade away and overall treble-bass balance dramatically improves with playing time. This tonal growth is very noticeable over the first few weeks, then less so with time.
Arguably, nothing beats simply playing the guitar. That said, every guitar maker you meet will tell you that they have experimented with placing new guitars directly in front of a speaker and playing loud music through it for weeks in an attempt to synthesize 'playing' the guitar. A sensible idea but it annoys the neighbours!!
So… the folks at GuitarRite, who are much smarter than yours-truly dreamed up a safe and quiet way to mechanically apply direct vibration to the guitar.
We support many private Luthiers and small boutique-makers; all building very technically advanced acoustic guitars. I have huge respect for these makers and when I heard positive reports on ToneRite I began to take notice. These reports are the reason that the ToneRite technology overcame my thick-skulled suspicion of any mechanical devices made after 1969. (I must get a life!)
The GuitarRite treatment process will improve any new steel string flat-top acoustic guitar. Any new guitar, even an el-cheapo beginner guitar will benefit.
Older high quality guitars that have been in storage come back to life as well.
Classical and flamenco guitars are candidates for ToneRite treatment since nylon strung guitars can take years to 'grow' to their full potential. Many of my clients use extra hard tension strings for the first year or two to accelerate this play-in process and the ToneRite would be really speed up the process.
Mandolins will benefit from the ToneRite too; Stiff-topped instruments like mandolins and arch-top Jazz guitars take hundreds of hours to even begin the break in process.
Plus the ToneRite works on Resophonic guitars with both biscuit and spider cone systems; Aluminum cones take easily 100 hours of hard playing before they really loosen up. Paul Beard has experimented on his squareneck professional guitars with noticeable results.
Similarly nylon strung ukuleles should benefit from two or three weeks application of the ToneRite. The Mandolin or Guitar ToneRite models will both adapt to Ukulele.
In short, we are pleased to support the ToneRite device. It certainly makes my guitars sound better…I only wish it made me sound better too !
You can read more about ToneRite products here
Grant MacNeill
---
You can preview our videos now on Our YouTube Channel!
You can now Visit our Facebook page!