Anyone who has a high end classical (or steel string for that matter) with a delicate micro thin lacquer or French polish finish, will love the Guitar Guard Clear Pickguard!
The Guitar Guard Clear Pickguard is a clear film that adheres to your instrument utilizing 'static cling' rather than an adhesive, to protect the obvious wear areas around the soundhole. Other products we have used develop air bubbles over time, and start to look a bit 'ratty' around the edges. This is a much stiffer protection that rubs down onto the top and becomes quite visually unobtrusive!
The Guitar Guard is intended for temporary application, while playing. Many finishes, especially those based on Nitrocellulose Lacquer or 'French Polish' will continue to 'off gas' for months after being completed, packed, shipped and sold. Leaving the plastic guard in place for extended period can trap these gases, ultimately marking the finish. It is best to apply the Guitar Guard before playing, and remove it at the end.
Each Guitar Guard kit has two square pieces, approximately 4″ x 8″ that you can cut down with scissors to suite whatever area you need to protect.
Generally we save the cost of FedEx and simply mail them in a standard business sized envelope. Though they are not protected, I've never had a customer complain about damage.
Guitar Guard (2-in-a-pack) $21.50 Canadian or $16.50 US dollars, plus $3 Canadian for postage to Canada or USA.
Price: cdn$21.50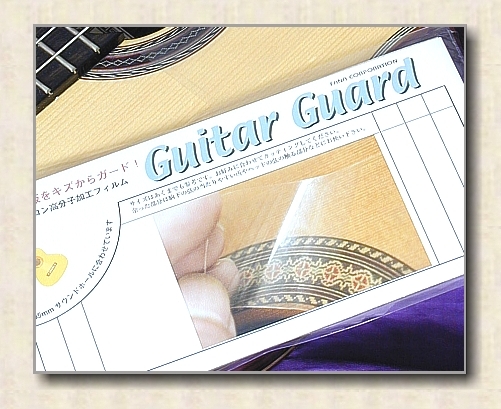 Class:
Date Listed: 08/02/2017
---