Banjo players are fascinated by Fretless banjos of the 19th century. These banjos were strung with gut strings and had a smooth, bare fretboard much like a violin.
NOTE! Deering now builds a stock nylon string banjo, in six string form.
You can see this instrument here!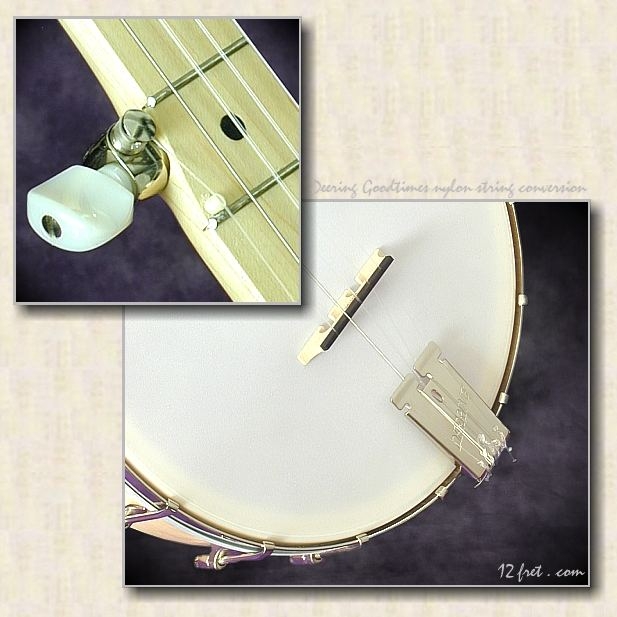 Prices are high for these historical, vintage banjos.
Most players find these fretless necks a real challenge to play. If you have ever attempted to play a fretless banjo, the intonation, tonal and playability advantages of a fretted banjo are plain to see. It is safe to say that with fretless banjo – "tuning is optional" !
Today we're looking at a Deering Goodtime Open-back Banjo gut string conversion.
Converting a fretted banjo to gut-string offers that old-time, Civil War era tone and plunkiness without the tuning grief of playing fretless banjo. It's perfect for players looking for a classic 19th century tone, and for fingerstylists who require the intonation that one expects in a modern banjo.
This is ideally suited to Clawhammer / Frailing styling. But I like it for finger-style Bluegrass and play the nylon strings with regular metal picks. The volume is 1/3 of my Deering Golden Era so my family loves it since I can quietly plunk away on it without "noise" complaints!
"Gut" remains a commonly used slang for nylon classical type strings. Gut-strings have not been used on guitars since the 1950s when Nylon strings were developed.
Several years ago, one of my customers asked me to convert a Deering Goodtime open-back banjo to gut-string. This began as an experiment that turned into a popular conversion that we do on a routine basis.
The open-back Deering Goodtime Banjo is ideal for this conversion with the basic wood tone-ring construction and frosted head. (The Fiberskyn fake-calfskin head commonly offered on low priced open back banjos is far too stiff and gives poor response with nylon strings.)
The conversion process
The nut is shimmed to raise action in the first position; soft nylon strings need higher action to clear the first fret. The slots are re-cut to accommodate the thicker nylon strings. A bone 5th string nut is fabricated and installed to get adequate open-string height on the 5th string.
We restring with nylon strings and setup at action appropriate for gut strings.
My best results are with Aquila Nylgut classical Banjo strings.
Nylon (Classical) strings have a lot of stretch and they take several days for the strings to fully stretch in and hold pitch well. Classical guitar players are used to the stretchy characteristic of nylon strings but this is a new "issue" for banjo players. After a few days they become stable and hold tuning well.
The strings are knotted to the tailpiece using "bowline" knot. I am happy to coach any customers when learning this ancient knot. The Nylon plain strings last for years. Most players find they only need to replace the wound 4th string perhaps every 12 to 24 months.
Base price on the Deering Goodtime open back banjo: $529 Canadian dollars with 6 year full warranty.
Gut string conversion with strings, nut install and full setup runs $100.00.
Total cost with banjo is $629.00 Canadian Dollars or $483.00 US Dollars (based on 1.3% exchange).
A Deluxe Deering padded gig bag runs $72.50 Canadian dollars extra.
Grant MacNeill
Owner and Banjo Specialist at The Twelfth Fret
---
Jens Kruger presents the Deering Line Up – The Blonde Goodtime Banjos

---
You can preview our videos now on Our YouTube Channel!
You can now Visit our Facebook page!
Check out Grant's Banjo Setup Q&A