Quebec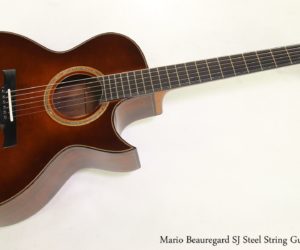 Mario Beauregard SJ Steel String Guitar, 2008
Price: $12850 CAD
MORE

→
Banjo-maker Carl Arcand routinely restores older banjos to give them a 'second life' from his Eastern Townships shop in Ulverton, Quebec. This fine example Second Life MasterClone Banjo is still archived on his site. This instrument is assumed to be based on a 60s or 70s Gibson TB-250 'donor-banjo' pot with flathead bronze tone ring and fitted to an Arcand handmade replica neck. The resurrection work was completed and the banjo first sold in 2014. This Second Life MasterClone Banjo is certainly equal or superior to any 70's original Gibson. It is what we would call a RB-250 Mastertone "clone" banjo or "Master-Clone" banjo.
Price: $1850 CAD
MORE

→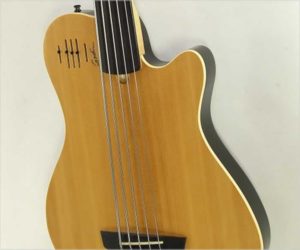 The Godin fretless 5-string Bass body is made of two pieces of silver leaf maple, chambered and capped with spruce. The neck bolts on, and uses rock maple plus an ebony fingerboard on the fretless version. The Fretted version gets a rosewood fingerboard. The bridge matches the fingerboard, and on this older example uses an acoustic-guitar style pin bridge. Godin is very well acquainted with using piezo pickups and have devised a very usable and unobtrusive control layout next to the fingerboard. Access to the battery for the preamp is on the back.
Price: $800 CAD
MORE

→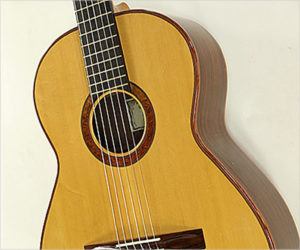 This classical guitar was built during 2007 at the current de Jonge shop in Chelsea, Quebec. It is a smaller scale model, with 630mm scale length and 50mm nut. The top is lattice-braced Spruce, and the sides, back, headplate and bridge are Indian Rosewood. The neck is Mahogany with an Ebony fingerboard. Tuners are Gotoh models, satin gold plated with marbled plastic buttons. There is one dot position marker on the fingerboard bass edge, at the 7th fret. The neck is not attached in the traditional Spanish style, where it is mated to the sides, but instead there is some sort of tenon or dovetail joint.
Price: $5950 CAD
This instrument has sold
MORE

→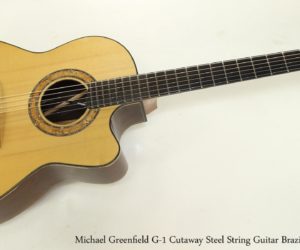 The Greenfield G-1 is a very responsive guitar, quick to react to even the lightest touch and lends itself to many different styles of music. It has a very focused yet open sound with a tight responsive bass, transparent mids and thick, clear, ringing highs. Primarily intended as a fingerstyle guitar, it is also superb for light strumming or acoustic jazz.
This instrument has sold
MORE

→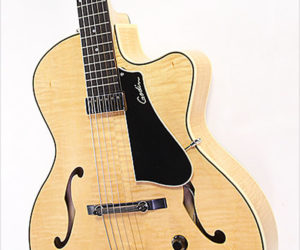 The Godin 5th Avenue Jazz is aimed squarely at the jazz guitarist using amplfiication, using an arched, laminated top and back with a single neck-mount mini humbucker. The design is classic and straight ahead.
Price: $1325 CAD
This instrument has sold
MORE

→