Instrument Categories: Banjos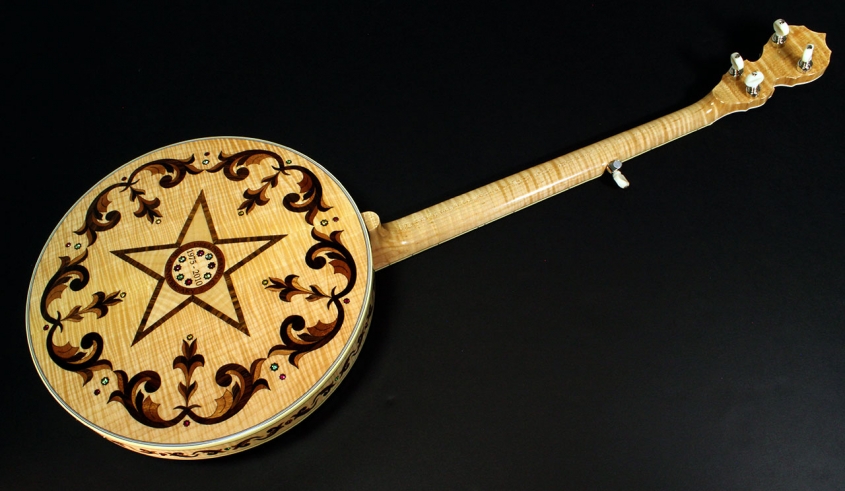 Comments
Congratulations to Deering on their 35th anniversary and the Deering 35th Anniversary Banjo.  Job well done !

Greg and Janet Deering run the premier banjo company in North American and build more banjos than all the other banjo makers combined.    This 35th commemorative banjo is the personal project of Greg Deering and he combines several of his latest technological advancements in this banjo;  the Eagle flange,  The Aught Six tone ring,  the Red-maple rim,  the Deering special alloy tailpiece; all put together to make one of the finest sounding we have heard.  And as for the looks…well… stunning, spectacular, awesome,  elegant…where's my thesaurus !

At the 2011 NAMM show the 35th anniversary,  serial # 1 was one display.  See the photos of this banjo with the proud Deering family below.  This georgeous banjo inspired me to specially request one of these banjos in a more affordable format; without the engraving and gold plate.

Fortunately,  Greg and Janet agreed to build this incredible banjo and after a 9 month gestation period…this baby has arrived!!

Whoa…what a banjo !  It just doesn't get any better than this !

Serial Number
#002 !   Full number is # 11000211002
Pricing
Please follow this link to view or download a PDF summary of the Deering Banjo models we carry with current prices.
Neck
AAA Artist grade, Flame maple neck with grained ivoroid bound ebony board, custom mother of pearl inlays.
Frets
2 medium frets, over the binding.
Body
Artist grade Flame maple resonator, bound with grained ivoroid, rhinestone encrusted with walnut marquetry; Deering 35th Anniversary inlay in center of resonator. Red Maple Rim,  Deering "Aught six" phosphor bronze tone ring, Eagle flange: all hardware is custom Chrome plated.
Finish
Clear gloss finish.
Hardware/electronics
Custom chrome-plated hardware.; Deering chrome plated planetary gears with ivoroid buttons.
Playability/Action
We will set this up to your particular needs.
Case
Deering hardshell archtop case included.

What we like: Deering Banjos
Deering Banjos, Tenbrooks Banjos, Vega Banjos, Goodtime Banjos — all made in the USA by the Deering Banjo company.
We keep an inventory of over 200 Deering banjos at all times, with 40 models including virtually all the Deering 5 string banjos, several Deering 6 string and Tenor models, plus the Vega open back 5 string models, the elite Tenbrooks 5 strings and a huge offering of the entry level Goodtime line of banjos.
Email or call any time with questions.

We have 6 full time luthiers on staff with the expertise to setup and service your instruments. All banjos we sill will be very thoroughly setup to suit your right hand attack and playing action expectations. Head tension, action, nut height, bridge and tailpiece positioning and installation of 5th string capo tacks are issues that we deal with as each and every banjo is sold. Plus there is no charge for follow-up adjustments on new banjos for the first year.
---
You can preview our videos now on Our YouTube Channel!
You can now Visit our Facebook page!
Check out Grant's Banjo Setup Q&A
Model: 35th Anniversary
Year: Current
Class: New
Condition: Brand New
---
---
Contact The Twelfth Fret Regarding This Item