Instrument Categories: Banjos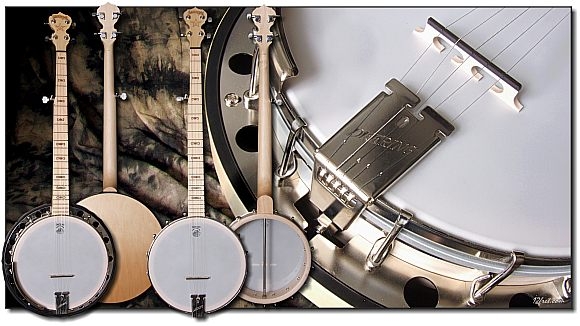 Fully US made, Deering Goodtime Banjos have a lovely warm and mellow tone yet full and clear highs. These are certainly the sweetest sounding entry level banjos in this price range (in my humble opinion of course !).
The Deering Goodtime rim is "wood tone ring" style. The head rests directly on the wood rim which is machined to a contoured bevel, similar to the classic flathead tone ring. This creates a warmer, less edgy or brash tone, when compared to a low grade metal tone ring.
This wood tone ring style of construction lends itself very well to low priced banjos. The cheap metal tone rings used in many low priced instruments arguably don't actually improve the banjo, often enhancing only the harsh and undesirable overtones. This makes the wood tone ring a very nice alternative.
A Deering Goodtime banjo purchased from us is completely setup with standard action at 5/64 and head tension tuned to G#. Fret level is carefully checked on each instrument and all of our banjos will leave our shop in fully playable condition.
---
The Deering Goodtime Open Back Banjo: Warm, woody and full sounding, this is an ideal beginner instrument but is also great sounding clawhammer banjo for advanced players.
The Deering Goodtime Open Back Banjo

---
The Deering Goodtime II Resonator Banjo: The addition of the resonator and flange completely changes the voice of the instrument, significantly increasing volume and adding that snappy and crisp attack typical of Bluegrass banjos. The maple Wood tone ring means that this banjo is much warmer sounding than most low priced Chinese made banjos under $1000.
The Deering Goodtime 2 Resonator Banjo

---
– Grant MacNeill
Specifications
The Neck:
* Rock Maple
* Satin finish
* Slender profile
* Sealed tuners
* Bow Tie inlay
The Pot:
* Standard 11″ diameter
* Satin finish
* Adjustable tailpiece
* 3 ply red-maple rim
* Single coordinator rod
* Rock Maple Resonator (Goodtime II model)
---
Jens Kruger presents the Deering Line Up – The Blonde Goodtime Banjos

The Deering Goodtime Open Back Banjo

The Deering Goodtime Two Resonator Banjo

Check out Grant's Banjo Setup Q&A
You can preview our videos now on Our YouTube Channel!
Model: Goodtime
Year: Current
Class: New
Condition: Brand New
---
---
Contact The Twelfth Fret Regarding This Item