Instrument Categories: Banjos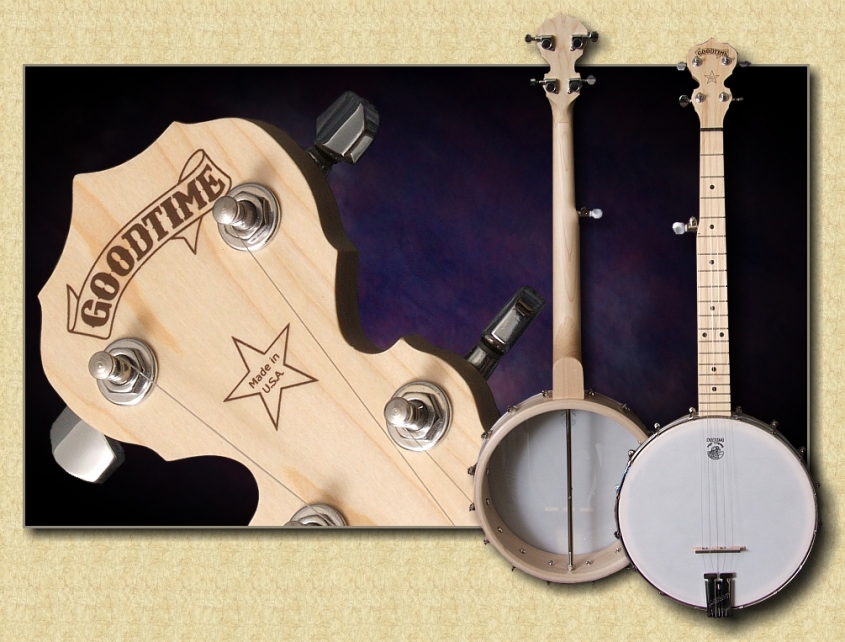 Pick it in the parlor, in the park, or any where you go — the Deering Goodtime Parlor Banjo is light weight and made with a shorter scale to meet a variety of needs for today's banjo players!
Introduced at the industry's major show in Anaheim recently, the model was very well received by dealers, artists, and other attendees. Reminiscent of the shorter scale banjos that were popular in the 1890's, the Goodtime Parlor banjo is a 19 fret, 5-string rock maple banjo that weighs only 4 pounds in the openback version and a mere 5 pounds with a resonator model. Created with a traditional fiddle style peghead bearing a Goodtime logo, this bright, sparkling banjo has good tone and projection despite its smaller size.
The banjo comes standard with the new sealed, geared, nickel plated guitar tuners but planetary tuners are available for a modest upgrade charge. The overall length of the banjo ranges from 33 ¼ to 34" depending on whether you have the openback or resonator style. Deering Banjos is offering the Parlor Goodtime banjo at no increase in price from the 22-fret models. The openback retails for $499 and the resonator model for $699 and is available now through authorized Deering dealers.
Tuned to open G like the 22-fret version Goodtime, the tone of the Parlor Goodtime banjo is slightly brighter due to the shorter scale. The same light gauge strings popular on all Deering banjos are used for the Parlor version so there will be no need to search for special strings to fit the banjo. This shorter scale is ideal for younger children whose naturally shorter reach has sometimes been an issue with the standard 22-fret Goodtime banjos.
Specifications
The Neck:
•Rock Maple
•Satin finish
•Slender profile
•Sealed tuners
•Black Position markers
The Pot:
•Standard 11″ diameter
•Satin finish
•Adjustable tailpiece
•Multi-ply birch/maple rim
•Single coordinator rod
Check out Grant's Banjo Setup Q&A
You can preview our videos now on Our YouTube Channel!


What we like: Deering Banjos
Deering Banjos, Tenbrooks Banjos, Vega Banjos, Goodtime Banjos — all made in the USA by the Deering Banjo company.
We keep an inventory of over 200 Deering banjos at all times, with 40 models including virtually all the Deering 5 string banjos, several Deering 6 string and Tenor models, plus the Vega open back 5 string models, the elite Tenbrooks 5 strings and a huge offering of the entry level Goodtime line of banjos.
Email or call any time with questions.

We have 6 full time luthiers on staff with the expertise to setup and service your instruments. All banjos we sill will be very thoroughly setup to suit your right hand attack and playing action expectations. Head tension, action, nut height, bridge and tailpiece positioning and installation of 5th string capo tacks are issues that we deal with as each and every banjo is sold. Plus there is no charge for follow-up adjustments on new banjos for the first year.
Model: Goodtime Parlor
Year: Current
Class: New
Condition: Brand New
---
---
Contact The Twelfth Fret Regarding This Item