Instrument Categories: Banjos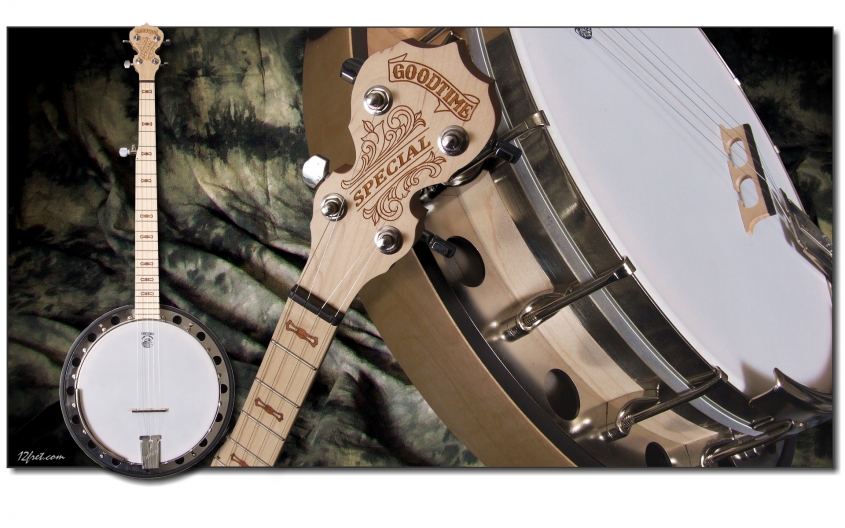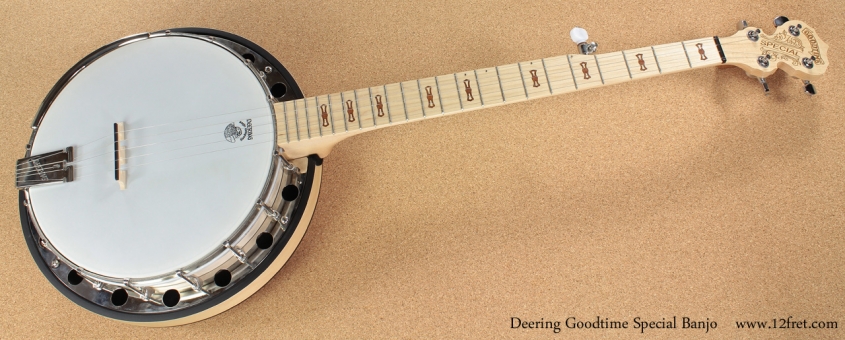 ---
We got our first Deering Goodtime Special Banjo in June of 2010 and were absolutely floored at the tone and volume of this new model. Greg Deering has applied his tooling expertise to developing a lower priced steel tone ring to adapt to the new 3 ply red maple Goodtime rim. This elegantly simple banjo easily competes with banjos priced $1000 higher.
There is some remarkable tonal magic going on here: The new steel tone ring combined with the unique Goodtime flange and red maple rim is the perfect combination for a classic professional Bluegrass tone.
The Deering Goodtime banjo is available in both open-back and resonator models.
This banjo has my unreserved vote for best tone under $1100 price range!
– Grant MacNeill
PRICING: $1049 Canadian dollars, or $826 US dollars, based on 1.27% exchange rate.
NOTE: Exchange rates change daily!

Deering Goodtime banjos have always sounded great but recently huge improvements were made: as Deering makes changes to their professional line of banjos, these changes trickle down to the Goodtime line and the tonal benefits are huge.
Two big changes in the Special model are the rim and tone ring. Players often ignore the importance of the rim when shopping for a banjo; granted the tone ring is important but rim is of almost equal importance to the final tone ( and couple that to the flange, tension hoop and overall setup for the final tonal results).
Greg Deering in consultation with Jens Kruger developed the Tenbrooks Banjo line, their top professional banjos. Part of this project involved creating a new rim to marry to the superb Swiss Ruetschi Bell foundry tone rings. This thicker and more massive maple rim was a huge success. The design was modified and adapted to replace the long-standing laminate maple rim used on the Goodtime banjos.
Then another pet project of Greg Deering was for a special banjo to celebrate Deering's 35th anniversary.
This project gave birth to the Eagle 11 tone ring.
The bell brass Eagle tone ring concept was modified to be built out of steel so it could be adapted to the new maple Goodtime rim: and the new Goodtime Special model was born.
The Goodtime Special is superb sounding banjo done in a plain and simple package to keep the price down; excellent balance and tone right up the neck: easily matching many of the professional models on the market.
For more information on the Goodtime Special Banjo Click Here
Specifications for the Deering Goodtime Special Banjo
The Neck:
Rock Maple
Satin finish
Slender profile
Sealed tuners
Bow Tie inlayThe Pot:

Standard 11″ diameter
Satin finish
Adjustable tailpiece
3 ply red-maple rim
Single coordinator rod
Rock Maple Resonator (Goodtime II model)
Steel tone ring (Goodtime Special model)

Read about Deering Goodtime Special Banjos at the Deering site here

Read about Deering Goodtime Special Openback Banjos at the Deering site here

---

---

You can preview our videos now on Our YouTube Channel!

You can now Visit our Facebook page!

Check out Grant's Banjo Setup Q&A

---


What we like: Deering Banjos
Deering Banjos, Tenbrooks Banjos, Vega Banjos, Goodtime Banjos — all made in the USA by the Deering Banjo company.

We keep an inventory of over 200 Deering banjos at all times, with 40 models including virtually all the Deering 5 string banjos, several Deering 6 string and Tenor models, plus the Vega open back 5 string models, the elite Tenbrooks 5 strings and a huge offering of the entry level Goodtime line of banjos.

Email or call any time with questions.

We have 6 full time luthiers on staff with the expertise to setup and service your instruments. All banjos we sill will be very thoroughly setup to suit your right hand attack and playing action expectations. Head tension, action, nut height, bridge and tailpiece positioning and installation of 5th string capo tacks are issues that we deal with as each and every banjo is sold. Plus there is no charge for follow-up adjustments on new banjos for the first year.
Price: $1049 CAD
Model: Goodtime Special
Year: Current
Class: New
Condition: Brand New
---
---
Contact The Twelfth Fret Regarding This Item