The Ramirez 1a Traditional Professional Model is the 'benchmark guitar' for tone and quality with Performers, Maestros, and Master-Luthiers world-wide.
Considered by many to be the ultimate Concert Performers' guitar, the Ramirez 1a Traditional is offered in Red Cedar top. We can supply in German Spruce top by special order.
The Ramirez 1a Professional is built with Indian Rosewood back and sides. We also offer it in artist-grade Madagasgar Rosewood back and sides. Unique to the Traditional model, the sides are cypress-wood lined in order to make the treble harmonic overtones more warm and lush-sounding. All of our 1a Traditional models are 650 mm scale length.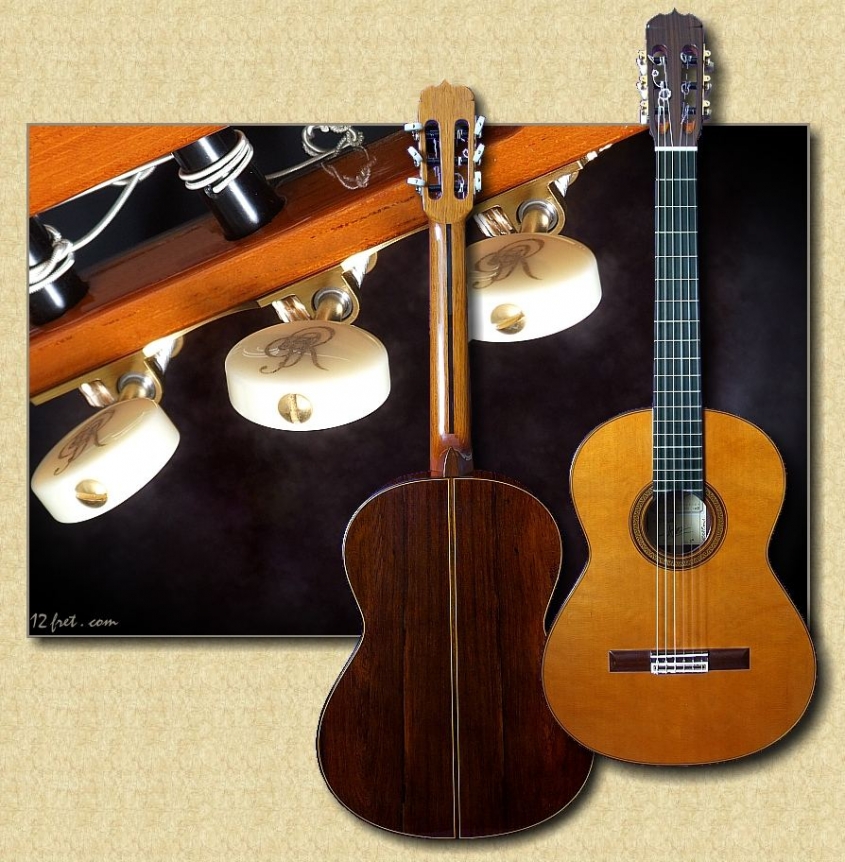 ---
History and development of the Traditional model
In 1960, José Ramírez III convinced his long-time client, Andrés Segovia to return to performing with Ramírez guitars, something he had done in the past. This resulted in one of the most significant collaborations in modern guitar history.
Ramírez III experimented extensively with varnish, interior bracing design and tone-woods; working to find improvements that would conform to Segovia's demanding concert performance technique.
In 1965, José Ramírez III discovered Red Cedar as a superb tone wood for his guitars. The throaty bass response and huge volume possible with Red Cedar made it an instant success with Segovia. This lead to the almost universal adoption of Red Cedar as the tone-wood most commonly associated with Spanish-made classical guitars.
---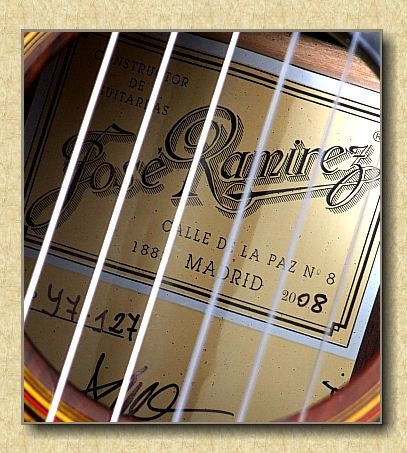 ---
The 1960s and 70s were a 'Golden Era' for Ramírez Guitars. With José Ramírez III at the helm, classical guitar design evolved rapidly. His designs influenced the direction of guitar design and had a huge effect on the art of Lutherie world-wide.
The Ramírez 1a Professional Model became the guitar to which all other guitars were compared. The 1a Model from this era is identified by the Cypress-wood-lined sides. It was eventually renamed the 'Traditional Model' to differentiate it from all other guitars.
Amalia Ramírez now leads the Ramírez family. She began her apprenticeship in 1976 and went on to build many 1a Professional Series guitars.
Amalia Ramírez and José Ramírez IV quickly became Master-Luthiers in their own right. In 1988 José Ramírez III retired and the family business formally passed on to the 4th generation of Ramírez Luthiers.
In 1993, Amalia and José Ramírez restructured the shop, with a smaller workshop and limited production. In the summer of 1995, the Ramirez storefront moved from Concepción Jerónima nº2, to the street of La Paz nº 8, very near to the original workshop.
By returning to their roots as a smaller and more intimate workshop, they could enjoy a better quality of life. This change also assured complete quality control over each and every guitar completed in their workshop.
As a tribute to the historic 1960s design that evolved at their father's workbench the standard 1a Model was formally re-named the 'Traditional Model' at this time.
Amalia Ramírez remains in charge of the Ramírez workshop; both as administrator and as Master-Luthier. She inspects and signs the label on all of the 1a Professional Series guitars.
As Master-Luthier, Amalia Ramírez embodies the spirit and inspiration of the Ramírez workshop. She is a consummate professional in all aspects of her business operations and I often consult with her.
The Twelfth Fret is proud to be the Canadian representative for the Ramírez Professional 1a Series. Generally we carry 4 to 6 Professional Series guitars at all times plus a broad selection of the Semi Professional Concert guitars and the Estudio series guitars described later in this feature.
As guitar-makers and technicians, we supply full service; setup, maintenance and restoration of both new and vintage Ramírez guitars. The Luthiers in our workshop routinely do extensive restorations on older, well-loved Ramírez guitars.
Grant MacNeill, Pres. The Twelfth Fret
---
Here is Ed Kopala playing the Ramirez 1a Traditional:
And again, Ed Kopala with the Ramirez 1a Madagascar:
Prices for the José Ramírez 1a Traditional Concert Classical:
Please contact us for current pricing and availabilty.
Price with German Spruce top:
Please contact us for current pricing and availabilty
Price with Cedar top and Madagascar Rosewood Back and Sides:
Please contact us for current pricing and availabilty
Price with German Spruce top and Madagascar Rosewood Back and Sides:
Please contact us for current pricing and availabilty.
---
What We Like-Ramirez Guitars
Ramirez guitars – we carry 12 models with over 50 new Ramirez guitars in stock at all times!
Models we stock include the NE and 130th Anniversary Series guitars in both Cedar and Spruce tops; the CWE Cutaway with pickup models, flamenco models and the Professional 1a and Concert SP models.
Email or call any time with questions. We'll answer!
We have 6 full time luthiers on staff with the expertise to setup and service your instruments. All Ramirez guitars will be very thoroughly setup to suit your right hand attack and playing action expectations.
Read more at the links below
---
You can preview our videos now on Our YouTube Channel!
You can now Visit our Facebook page!
Model: 1a Traditional
Year: Current
Class: New
Country of Origin: Spain
Condition: Brand New
---
---
Contact The Twelfth Fret Regarding This Item