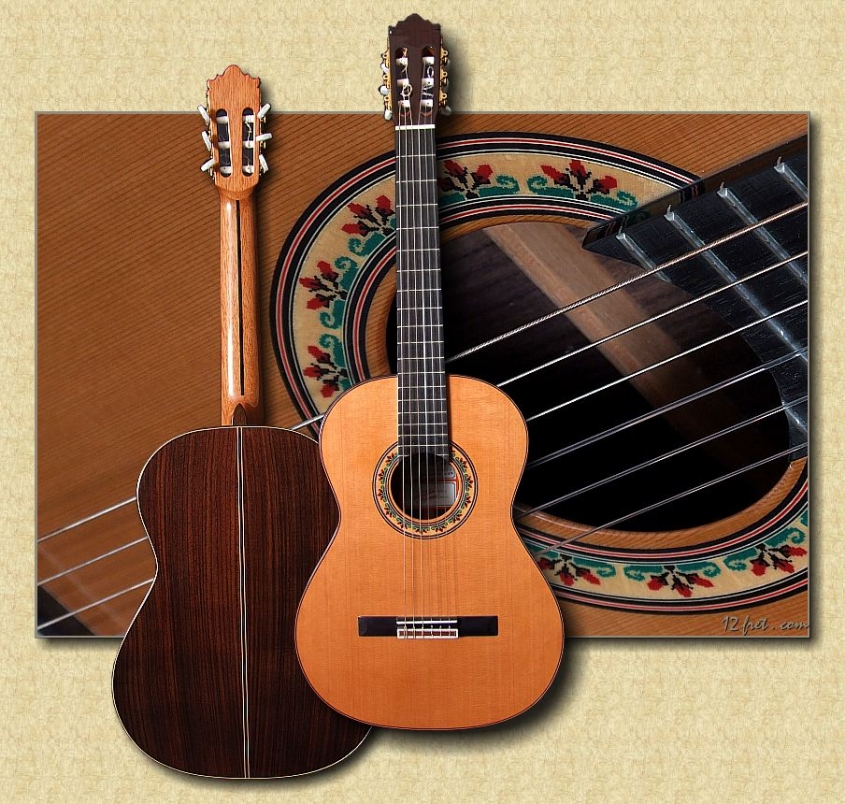 ---
Manuel Ramirez de Galarreta y Planell was born in Alhama of Aragon in 1864. Manuel was the younger brother of Jose Ramirez I and at the age of 27 he decided to open his own shop at 24 Cava Baja Street in Madrid. This move caused bad feelings between the two brothers that were never resolved.
In a short period of time Manuel Ramirez developed a very good reputation for building not only guitars but violins and was named luthier of the Royal Conservatory of Madrid. In addition to this, Manuel taught many young luthiers during this period, including Santos Hernández, Domingo Esteso and
Modesto Borreguero.
Although it was his brother Jose Ramirez I who developed the "tablao" guitar design, it was Manuel who developed and perfected the design which is still the model for today's Spanish classical guitar.
It was around 1912 when a young man in eccentric clothing presented himself at the Manuel Ramirez workshop asking to rent a guitar for a concert he was about to perform. Because of the strangeness of the young mans appearance along with the unusual request he was not taken very seriously until he sat down and played the guitar. His prodigious technique and vast repertoire prompted Manuel to give him the guitar, and the rest is history. The young man's name was Andre Segovia and that very guitar now resides in the Metropolitan Museum of New York!
The Ramirez Model 2N-E pictured above "has the same aesthetic and technical mosaic design, headpiece, stringing, template, scales, bridge, placement of soundboard bars and cross bar of the E line, entirely as built by José Ramírez III in 1984. The new NE line is based on this design, the only changes being the mosaics and a few minor details of the internal construction in order to improve the sound quality." As opposed to the older Model 2E, the new 2N-E has solid Indian rosewood back and sides with a solid bookmatched Western Red cedar top.
---
Specifications for the Ramirez Model 2N-E Classical Guitar:
52 mm wide bone nut
650 mm scale length
Ebony fingerboard
Spanish cedar neck with ebony reinforcement
Solid bookmatched Western Red cedar top
Proprietary mosaic soundhole rosettte
Solid East Indian rosewood back & sides
Rosewood body binding
Rosewood bridge with bone saddle
Hardshell case
---
Serial Number: Varies as New.
Pricing: Please contact us for pricing.

Status: In Stock and Available.

---
---
What We Like-Ramirez Guitars
Ramirez guitars – we carry 12 models with over 50 new Ramirez guitars in stock at all times!
Models we stock include the NE and 130th Anniversary Series guitars in both Cedar and Spruce tops; the CWE Cutaway with pickup models, flamenco models and the Professional 1a and Concert SP models.
Email or call any time with questions. We'll answer!
We have 6 full time luthiers on staff with the expertise to setup and service your instruments. All Ramirez guitars will be very thoroughly setup to suit your right hand attack and playing action expectations.
Read more at the links below
---
You can preview our videos now on Our YouTube Channel!
You can now Visit our Facebook page!
---
Model: 2N-E
Year: Current
Class: New
Country of Origin: Spain
Condition: Brand New
---
---
Contact The Twelfth Fret Regarding This Item