The National Hot-Plate was designed by National Reso-Phonic & guitarist Mike Dowling to address the issues of amplifying resophonic guitars. It is a self contained unit that simply replaces the coverplate on your existing instrument … just take the strings off, grab your trusty screwdriver and in 15 minutes you're ready to plug in.
As Mike Dowling says: "To me, the National Reso-Phonic HotPlate sounds just like the tone of the unamplified guitar, only louder. On my El Trovador it sounds like the El Trov, on the Style 0 it sounds like a Style O, on the Reso-Rocket . . . well, you get the idea. No question, National Reso-Phonic guitars are full-sounding and loud played acoustically, but for those who need a pick-up there's no cleaner option. I use the pick-up primarily to reinforce my sound and round out the bottom end when I'm on stage or in the studio, and when used discreetly in conjunction with an instrument mic I find that I sacrifice none of the acoustic integrity of the instrument."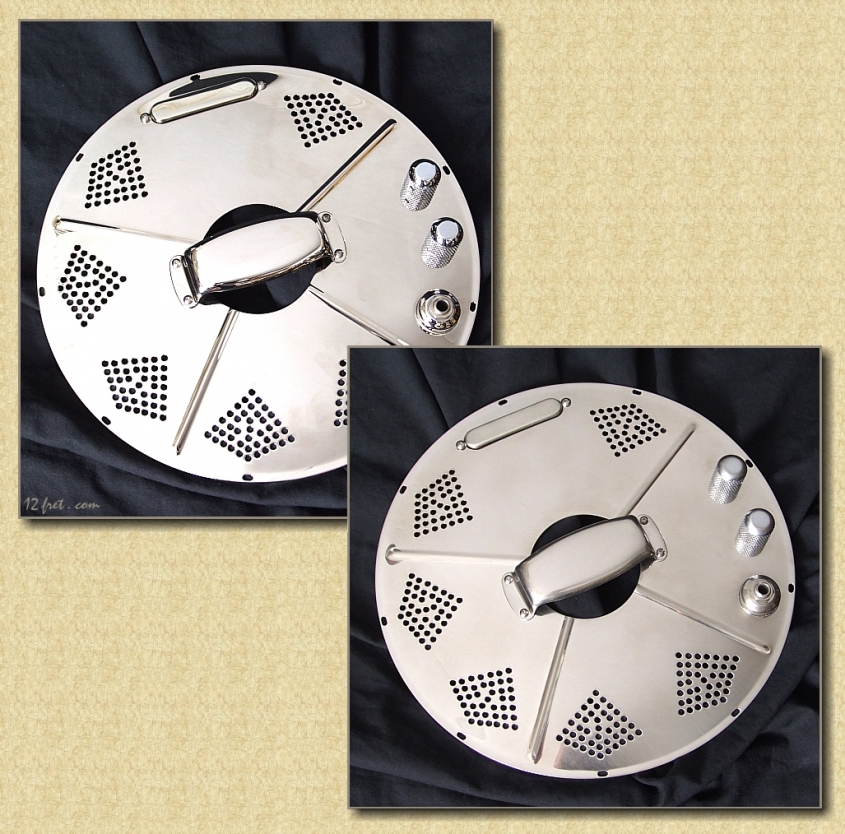 Specifications
* Available in Bright Nickel (shown above left)
or Hand Rubbed Nickel (shown above right)
* Sieve hole Coverplate
* 1/4 inch output jack
* Jason Lollar® Single Coil Tele-Style Pickup
* Passive Volume and Tone Controls
* Enlarged Coverplate Screw Holes for easy install
* Designed to replace National Style 9.5″ Coverplate
without modifcation to instrument
Price: $419 Canadian dollars or $330 US dollars, based on 1.27% exchange rate.
Note: Exchange rates change daily!
Shipping and any applicable taxes are extra.
You can preview our videos now on Our YouTube Channel!
You can now Visit our Facebook page!
-review-availability