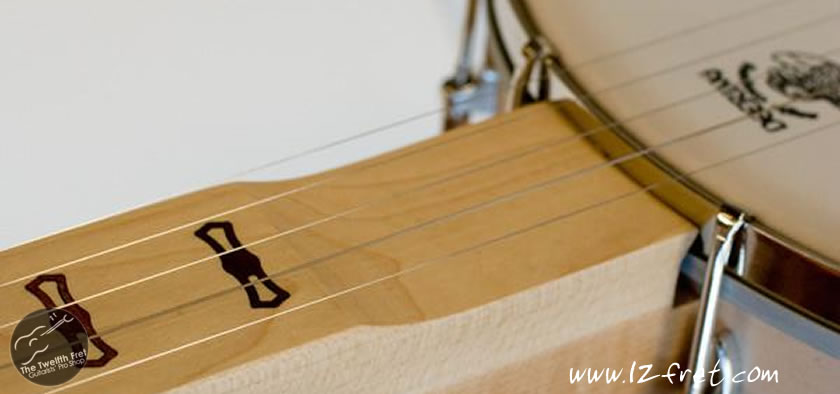 Banjos began to be commercially produced in the 1850s and enjoyed huge popularity. During the next 40 years over 80 American companies produced banjos.
19th Century banjos remained true to their African roots; they were fretless and fitted with friction-peg tuners. In the 1880s, fretted banjos appear, offered by companies such as C. Bruno and Sons of New York. By the 1900s only a handful of fretless models remained, catering to the older players who had cut their teeth on fretless banjo.
The tonal and volume advantages of frets were undeniable. That said, fretless banjo remained a popular home-spun, parlour instrument in Appalachia well into the 1950s. In the iconic Dueling Banjos-scene (Deliverence-1972) Billy Redden known as Lonnie, the Banjo Boy, played a typical late 19th century style banjo. This one magical scene resulted in a huge renaissance for clawhammer and Bluegrass style banjo.
The sound track you hear is very different from the clawhammer style being played; overdubbed in the Bluegrass style by Eric Weissberg. Authenticity was thrown to the winds …but that did not discourage a generation new banjo players!
These 19th century fretless banjos are rare and priced out of reach to most players …until now!
Deering has issued two new Goodtime Banjo models in fretless; fitted with modern head, tuners and bridge these banjos have none of the quirky setup and tuning issues of the 19th century banjos.
The Goodtime Fretless banjos offer rock-solid tuning and are structurally built to handle steel strings.
The Goodtime Open-Back Fretless; blond maple neck & pot with bowtie inlay – CAD699.00
The Goodtime Artisan Open-Back Fretless; walnut-stained maple with fancy Riverboat inlay: CAD979.00
Note:
We offer an option to convert to 19th century style gut string at $80 parts and labour.

All of our new and used banjos include free setup and service for one full year.
---
Grant MacNeill – The Twelfth Fret