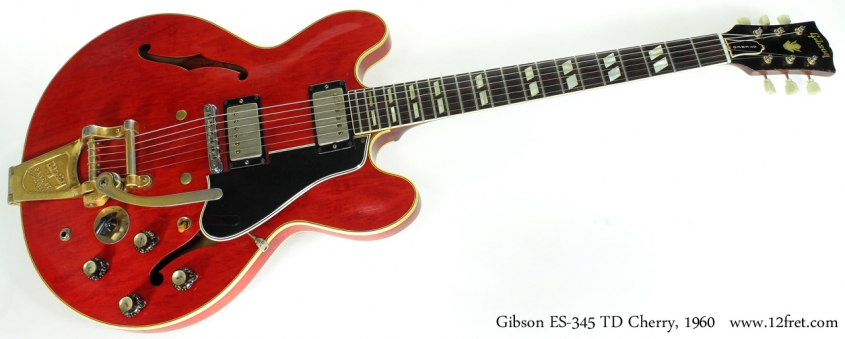 Comments
Here's something special. This isn't just a Cherry Red 1960 Gibson ES-345 TD – this guitar was owned and played by the late, great Domenic Troiano.

Domenic Troiano was an extremely influential Toronto guitarist from the 1960's to the 1990's, playing in bands like Mandala, Bush, The James Gang, The Guess Who, his own bands and endless sessions. Steely Dan would also be on that list but he was just too busy and had to turn it down!

We saw him many times at our shop and studio in the late 1970's and 1980's. He passed away on May 25, 2005 from prostate cancer.

This fine instrument isn't in entirely original condition, as Domenic Troiano was well known for tweaking his guitars in pursuit of tone. This guitar was fully rewired in our shop by Douglas Harrison and Brian Miller, from stereo to a much more practical mono, and the Varitone circuit was disconnected. It was also refretted in our shop with larger fretwire; there's a visible amount of wear so Domenic definitely played it quite a bit!

Originally equipped with a stop tailpiece, this ES-345 had a Bigsby B7G (gold) taillpiece installed probably during the early 1960's, and the stop tailpiece anchor holes were covered.

Serial Number
A34776, built during 1960 at the Gibson plant in Kalamazoo, Michigan.
Pricing
$10,999.99 CAD with original case.
Neck
Mahogany neck with bound rosewood fingerboard, split parallelogram position markers.
Frets
This guitar was refretted in our shop on Kingston Road with larger frets. Minimal wear on these frets.
Body
Classic ES thinline double cutaway body. Maple laminate back and sides with solid maple center block, smaller F-holes.
Finish
Original gloss (and faded) cherry red nitrocellulose lacquer finish in decent shape.
Hardware/electronics
Gibson Deluxe tuners with plastic keystone buttons, rewired as mono without varitone in our shop by Douglas Harrison and Brian Miller; the Varitone inductor or choke is still in place next to the bridge pickup. Original PAF pickups. Period Bigsby installed, original stop tailpiece removed and anchor holes covered, newer Gibson ABR bridge.
Playability/Action
Plays extremely well, with the last set up for Domenic Troiano. Very slinky, clean, and very accurate.
Case
Original brown 'California Girl' case included.
---
You can preview our videos now on Our YouTube Channel!
You can now Visit our Facebook page!