Posts Tagged bluegrass
Here is a cool handmade banjo which is in great overall condition and comes with a black hardshell case.
MORE

→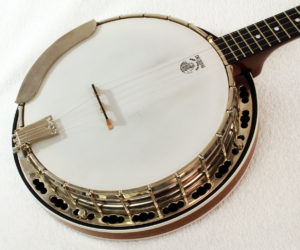 Comes with original hardshell case.
MORE

→
As you pick up the Zeus, you'll realize why Tom Nechville named this banjo after the king of gods. Players really seem to love the lighter weight of this banjo, as well as its smooth-feeling neck profile, radiused fingerboard and avante garde peghead profile. The beveled wooden armrest feels smooth on your forearm, the neck shape makes chording easier, providing clean, distinct and full bodied musical notes. You hear a woody, penetrating clarity with none of the sonic interference that is ever present in other traditional banjos.
MORE

→
The Nechville Atlas is hybrid banjo with a unique pot and Nechvilles patent pending adjustable neck design. The Walnut block-rim construction and wooden flange give this banjo a earthy appearance and smooth ergonomic feel. The Nechville fraling thumb scoop allows players to double thumb in that sweet spot without losing the top frets common with a typical scoop. The Cocobolo tone ring has a similar mass to a light weight metal tone ring providing similar sustain with a much warmer timbre. This instrument has the full fat sound of a 12″ pot with added clarity providing great depth, resonance and sustain. The Saturn and Stars inlay and hand rubbed oil finish complete this great looking and sounding banjo!
MORE

→
Nechville Musical Products has been in business since 1989, manufacturing professional banjos and related accessories for the booming acoustic and electric string instrument market. They have gained a respected reputation among the nation's top builders as being a leader in innovation and design. Nechville owns patents on the unique Heli-mount banjo design which has been enthusiastically accepted by some of the world's top players such as Bela Fleck and Alison Brown!
MORE

→
Emulating the sound of a prewar Gibson flathead tone ring might sound like an easy proposition to those unfamiliar with the processes involved, but those in the know will tell you that it is a difficult task indeed, something close to discovering the Holy Grail of bluegrass. For this reason, it is all the more noteworthy that in the several months since its release, praise for the Huber Vintage Flathead ring has been unanimously enthusiastic. While many of us know Steve as a formidable bluegrass banjo player with an innovative traditional bent, his destiny as a tone ring developer par excellence now seems almost inevitable.
MORE

→