Posts Tagged Gibson
Here's a really great condition 1965 Gibson RB-100 Banjo, delivering a warm, woody tone, hard attack with quick note decay
MORE

→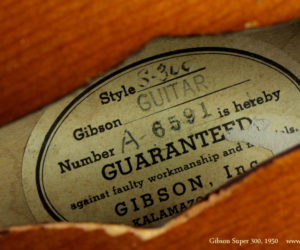 I've never actually seen one of these before – but, there were only about 200 produced, between 1948 and 1955. This is a 1950 Gibson Super 300. The Super 300 is very similar to its much better known older brother, the Super 400. The key difference is the modesty of the 300's decoration – at least compared to the Super 400.
MORE

→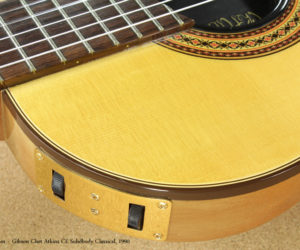 We don't see these very often, but here's a fine example of a very influential guitar – a 1990 Gibson Chet Atkins CE Solidbody Classical. The late, great and greatly lamented Chet Atkins was responsible for not only great music, but a number of musical innovations. Given his many performances over decades, under a very wide range of conditions, it's not surprising that he often sought out ways to control or prevent feedback at stage volumes.
MORE

→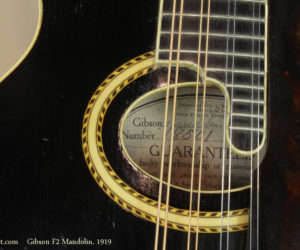 Orville Gibson basically invented the modern mandolin around 1895, combining the basic stringing and tuning layout with violin-type construction technology. To this point, the mandolin was usually a bowl-backed instrument, though some related flat-backed instruments such as the cittern had existed for some centuries.
MORE

→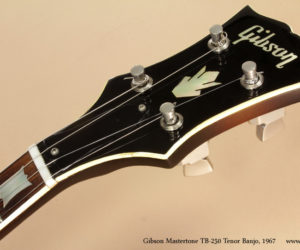 This fine example of a 1967 Gibson Mastertone TB-250 Tenor Banjo is in great condition, with no significant wear — especially given its age.
MORE

→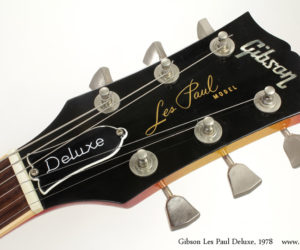 The Les Paul is one of the classic workhorses of modern popular music. Produced since 1952 in a number of variations, it appears on all kinds of stages and recordings.
MORE

→