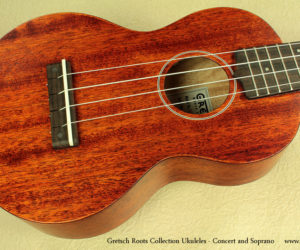 The Ukulele has been making a strong comeback in popularity. Their portability, musical versatility and relatively low cost are big factors in this.
We carry a wide range of brands and models of Ukuleles, from inexpensive wooden soprano ukes to expensive metal-body resonator concert models.
Gretsch has released as part of their 'Roots Collection' a number of ukuleles, and here are two of them – the G9100 soprano and the G9110 Concert.
These are built of solid mahogany for the body, with mahogany necks and rosewood fingerboard and bridge.
The one shortcoming with these instruments is the stock friction tuners, so we've upgraded the tuners on these instruments to Grover Sta-Tites.
MORE

→