---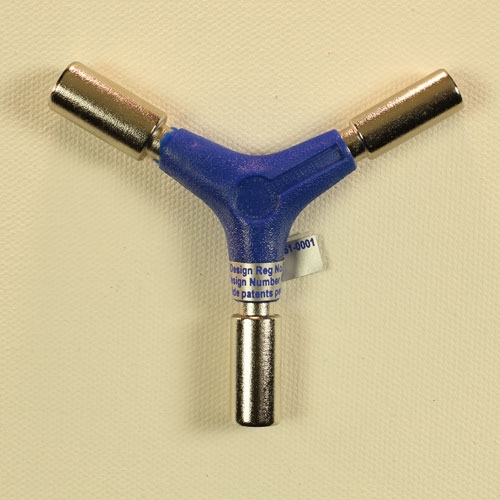 ---
The Hall MyBanjo Universal 3 way Banjo Head Tuning Wrench is an essential tool for tuning banjo heads.
Grant MacNeill, our resident banjo specialist says "this tool is The BEST and only banjo wrench you should need"!
The three sockets fit 1/4 inch, 9/32 inch, and 5/16 inch bracket hook and tailpiece nuts. This comes in very handy as nut sizes can vary from banjo to banjo.
Generally all Bluegrass USA banjos including Deering, Stelling, Gibson, and most Japanese, Chinese 'offshore' banjos will have 1/4 inch hooks and tailpiece nuts. Most prewar vintage banjos other than Gibson such as Fairbanks, Stewart etc will be 9/32 inch or 5/16 inch. Deering Vega banjos are generally 5/16" and the Goodtime series banjos are 9/32 inch.
The MyBanjo sockets are machined accurately to match their corresponding sizes where most traditional T-wrenchs are a sloppy fit and noticeably slower to use when installing a new banjo head.
When setting up a new banjo, the first thing I do before tensioning a head is check to see that every nut is tightened to the same tension or feel. The wider flair of the moulded body of this purpose-made banjo head tuning wrench gives me a better 'feel' for the torque needed to balance everything. And when installing or tensioning a head, the smaller, more awkward traditional T wrench makes the hundreds of adjustments needed more of a chore.
The Hall MyBanjo Universal 3 way Banjo Head Tuning Wrench is designed and manufactured in England by Derrick Hall.
About Banjo Head tension
Many things contribute to the tone of a banjo – tone ring, rim, flange, tailpiece, wood species etc. But more than anything else, the tension of the head is crucial to good tone. The Mylar plastic in a newly installed head has a great deal of stretch and head tension needs to be tweaked over the first few days and weeks of a new head's life.
Most banjo players prefer head tension at G#, so when one lightly scratches or taps the head one hears a G# (1st fret on 3rd string). Some players go as high as A. but many banjos lose bass response when the head is too tight. Lower than G, the banjo becomes 'woofy'; strange wolf-tone harmonics reverberate in the banjo if you tap the head. Also volume and tonal balance is lost up the neck when the head is below G. At G# head tension, everything comes nicely into balance and I normally strive for that on any banjo I setup.
A must have for Banjo case or workshop, a gift for the Banjo player musician, has a small 'Banjo' imprint detail across the centre part on both sides. Registered protected design.
Grant MacNeill
---