Brand:
Fishman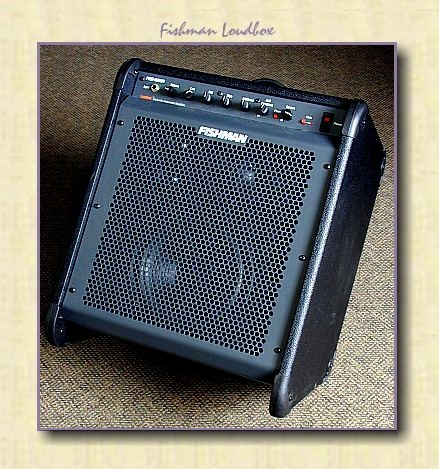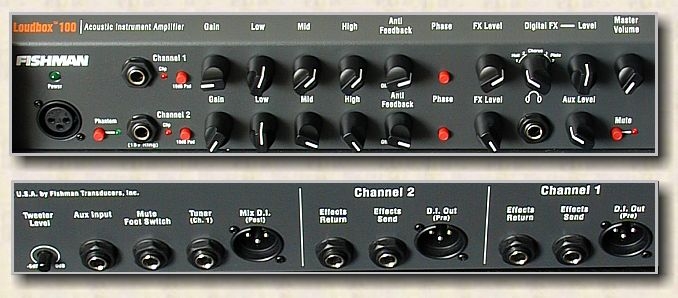 I am SUCH a wimp when it comes to lugging gear around, which is one of reasons the new Fishman Loudbox 100 appeals to me. This amp is very conservatively rated at 100 watts, has TONS of clean, undistorted headroom, and weighs in at a mere 23 pounds with a compact 16" x 13.5" x 11.5" cabinet!
Larry Fishman really got smart on the design of this version of the Loudbox. This one has two completely independent channels that are packed with very useable features. The Loudbox 100's Instrument Channel features extensive tone shaping with shelving style Bass and Treble, resonant Midrange and Notch Filter and Phase switch for feedback control. A 1/4″ input with gain control, 10dB pad and Clip indicator is complemented by a dedicated effects loop and XLR D.I. Output.
A versatile Instrument/Microphone Channel includes 15V and 24V Phantom Power for condenser microphones along with Shelving Bass and Treble, Notch Filter, Phase Switch, and a 1/4″ input and Balanced XLR input.
Other useful features include a full complement of Digital Effects (Hall 1 & 2, Plate 1 & 2 and Chorus, with Channel and Master Levels); a Dedicated Effects Loop with Level control and XLR; an Auxiliary Stereo Input with Level Control; D.I. Output. It also features an Auxiliary Stereo Input with Level Control; Balanced XLR Outputs for Instrument Channel, Inst/Mic Channel and Main Mix D.I. Output; tweeter level control; a Tuner Output; Mute control for both channels and a Remote Mute Control footswitch!
Specifications for the Fishman Loudbox 100
* Power: 100W rms cumulative, bi-amped with active crossover and
Master Volume
• Drivers: 8" Woofer (90W), 1" Neodymium Soft Dome Tweeter (10W)
• SPL @ 1 Meter: 114dB SPL
Instrument Channel:
• Input Gain with 10dB Pad and Clip Indicator
• Shelving Bass and Treble
• Resonant-style Midrange
• Effects Level
• Notch Filter (feedback control)
• Phase Switch (feedback control)
• Dedicated Effects Loop
• 1/4" Input
Instrument or Microphone Channel:
• 15V and 24V Phantom Power
• Input Gain with 10dB Pad and Clip Indicator
• Shelving Bass and Treble
• Effects Level
• Notch Filter (feedback control)
• Phase Switch (feedback control)
• Dedicated Effects Loop
• 1/4" Input & Balanced XLR Input
• Auxiliary Stereo Input with Level Control
• Digital Effects: Hall 1 & 2, Plate 1 & 2, Chorus, with Master Level
• D.I. Output: Balanced XLR Outputs for Instrument Channel,
Inst/Mic Channel, Main Mix
• Tuner Output
• Headphone Output
• Mutes Instrument and Inst/Mic Channels
• Dimensions: 16" x 13.5" x 11.5"
(40.5cm x 34cm x 29cm)
• Weight: 23 lbs
Year: Current |
Class: New
Serial Number: Varies as New
Country of Origin: USA
Condition: Brand New
Date Posted: 20/12/2010
---
---
Manufacturer's Website
Contact The Twelfth Fret Regarding This Item