Brand:
Gibson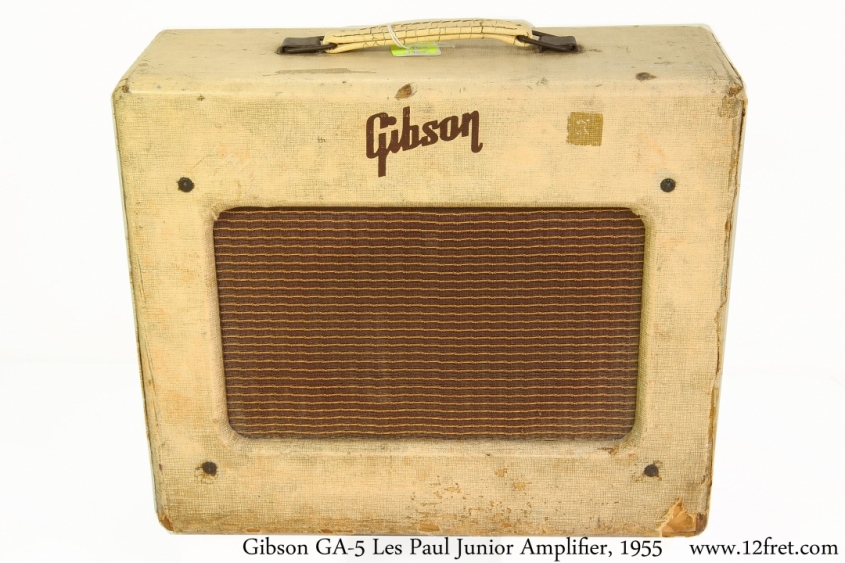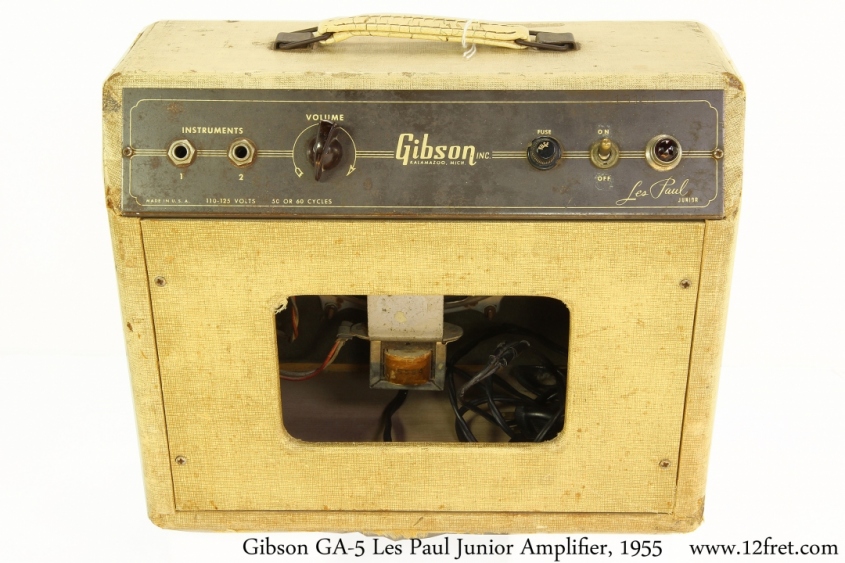 Built from 1954 to 1957, the Gibson GA5 Les Paul Junior amp was one of Gibson's early entries into the world of in-house built guitar amplifiers.
As early as 1932, Gibson recognized the potential of electric amplification of guitars, and began a program towards offering amplifiers with the Gibson brand. In a 1933 advertisement run in "Metronome" magazine, Gibson offered their first electrified guitar and amplifier set. This did not last long, partly because the type of pickup used could not deliver much volume. The next amplifier effort focused on lap steel guitars, the EH or Electric Hawaiian series of guitars. In 1935, Gibson offered the E-150 amplifier, with a chassis built by the Lyon & Healy company, and Geib – who made cases for Gibson guitars – making the cabinets.
In 1941, Gibson hired a local radio technician named Seth Lover to test and troubleshoot and test the amplifiers, which were still outsourced. Lover enlisted in the Navy for WW2, released in 1945, and returned to Gibson.
In 1948, Ted McCarty joined Gibson, then owned by Chicago Musical Instruments, with directions to improve its poor bottom line. Soon, McCarty realized that Gibson was completely capable of building amplifier cabinets and chassis, ended the practice of outsourcing amplifier construction and moved it in-house.
The Gibson GA5 amplifier was introduced in 1954 and branded the 'Les Paul Junior' – this was also the year that the Les Paul Junior guitar appeared. It delivered about 5 watts through – at first – a single 7-inch oval speaker, with the speaker transformer bolted to the basket. In 1957, the oval speaker was replaced with a single 8 inch round speaker. In 1958, the model lost its 'Les Paul Junior' designation and was renamed 'Skylark'. The GA-5 used a circuit similar to Fender's 5C1 Champ circuit. Over the three years of its production, 10,420 Gibson GA5 amps were built and sold.
This Gibson GA5 Les Paul Junior amp is in good working order, with orignal parts.
Price: $750 CAD
Model: GA-5 Les Paul Jr Amp
Year: 1955 |
Class: Vintage
Serial Number: N/A
Country of Origin: USA
Condition: Fair
Date Posted: 18/12/2019
---
This item has sold
Consignment Item
---
Manufacturer's Website
Contact The Twelfth Fret Regarding This Item