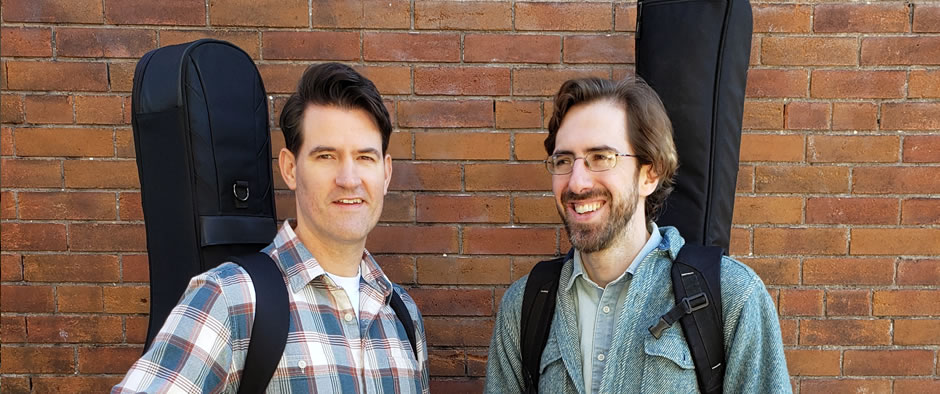 We are excited to welcome Rob Fenton and Adam Shier back to The Twelfth Fret for another night of music, Monday 25 March, 2020. Rob and Adam have enjoyed playing and singing bluegrass music together for the last ten years. They look forward to doing some pickin' at The Twelfth Fret and mixing things up with some Swing and Hawaiian music in the set, as well as some original pieces.
Event Details:
WHERE

: The Twelfth Fret

WHEN

: Monday 30 March, 2020

TIME:

7:00 – 8:30 p.m.

PRICE:

$20.00 which includes entry PLUS a $20.00 Twelfth Fret Gift Card, redeemable for full face value during normal store hours.
Please RSVP via our Contact Form or by phone. Only 20 spots are available for this event.
More About Rob Fenton
Rob Fenton has been a mainstay of the Toronto roots and bluegrass scene for 15 years, playing the Squareneck Dobro, Weissenborn, and Steel Guitar. You've likely seen him on stage around town, whether its working as a sideman backing singer-songwriters that include Patrick Brealey, Cindy Doire, and Michael Laderoute, or performing with regular bands Colonel Tom and the American Pour, The Sudden Valley Boys, or Smokey Folk. Rob has also played many music festivals and venues such as Massey Hall, and the National Arts Centre touring with major-label country acts Meghan Patrick, and the James Barker Band.
More About Adam Shier
Flatpick guitarist Adam Shier has been playing since he was 8. Since forming his band, The Unseen Strangers, he has gained notoriety for a distinct acoustic voice that bridges Bluegrass, Rock, and Improvisational music. He self-produced and
engineered The Unseen Strangers debut recording in 2009, earning a Music Nova Scotia Award for Bluegrass/Country Album of the Year.
To follow-up their debut release, The Unseen Strangers recorded two full-length albums with Toronto based recording engineer Andrew Collins. Adam earned the 2012 International Acoustic Music Award for his song "Rambler's Plea" (The Unseen Strangers, Follow the Sound). In 2013, The Unseen Strangers won the Delfest Bluegrass Band Competition and were invited back in 2014 to play alongside many notable acts such as Ricky Skaggs & Bruce Hornsby, Hot Rize, and Béla Fleck. In 2016 the band was invited to perform at the Folk Alliance International, International Bluegrass Music Association, and Folk Music Ontario conferences. The latest Unseen Strangers album, Stranger Places, features exclusively original material by Adam and has received over half a million streams since it's release April 1st, 2016. Adam currently spends time his writing, practicing, and touring with The Unseen Strangers, as well as teaching guitar, mandolin, and banjo.
Check out this Video from Rob and Adam's last visit to The Twelfth Fret
---