Electric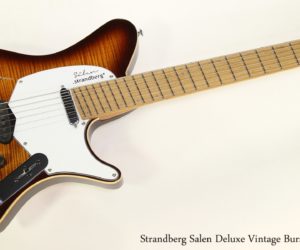 Strandberg Salen Deluxe Vintage Burst, 2018
Price: $2199 CAD
This instrument has sold
MORE

→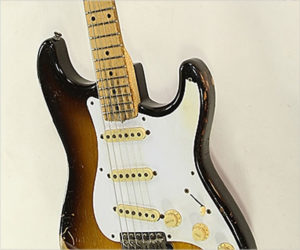 Here is a Fender Stratocaster built and sold during 1957; the neck date is 10-57, or October. It wears the then-standard two-tone nitrocellulose lacquer tobacco sunburst, with single ply pickguard and of course a V-profile maple neck. The serial number plate is stamped '-21305'. The minus sign prefix is specific to the 1957 and 1958 production, with some models alternately having a '0' prefix. Over the years, this guitar has had a number of changes made, and most have been recently repaired in our shop.
Price: $18500 CAD
This instrument has sold
MORE

→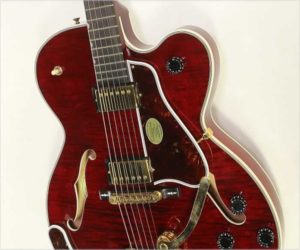 The Gibson Chet Atkins Country Gentleman was built from 1986 to 2005, but Gibson's association with Chet Atkins began in 1981 with the CEC Cutaway Electric Classical. While most of the Chet Atkins Country Gentleman guitars were made by Gretsch, that was impossible after 1981 when Gretsch temporarily folded. Gibson stepped in to work with Atkins, and produced a number of excellent, and ground-breaking instruments.
Price: $3000 CAD
This instrument has sold
MORE

→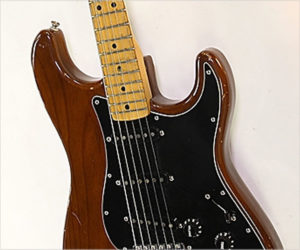 The Fender Stratocaster was a hit from the moment it appeared in 1954, though its advanced features did not knock the Telecaster off the charts. Both continued in production to the present day. Dating to 1979 and built at the Fender plant in Fullerton, California, this Stratocaster has a body stamp for 1978. It is in largely original condition, with the originally poly finish and frets in decent condition.  Along the neck edges, there is some expected chipping and wear of the finish. The body finish has a number of dings and the top may have been cleaned with some sort of solvent as there is some slight pitting.
Price: $1499 CAD
This instrument has sold
MORE

→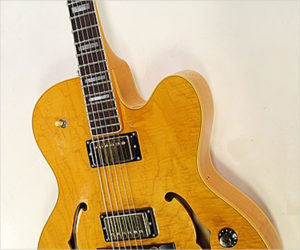 This first-year Guild X-170 Thinline Archtop Electric Guitar Amber is in good condition. The model seems to have gained the name 'Mini-Manhattan' shortly after this one was labelled. It is missing its pickguard and has a replacement compensated ebony bridge and saddle. The original Guild pickups, instantly recognisable with a three-screw adjustment system and two raised areas on the covers, have been replaced with Seymour Duncan units. All the metal parts are gold plated, and the original etched Guild harp tailpiece is in good shape. The strap pins have been replaced with Schaller style strap lock units.
Price: $2000 CAD
This instrument has sold
MORE

→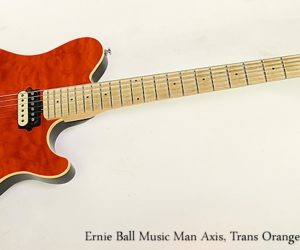 The Ernie Ball Music Man Axis promises and delivers straight ahead rock performance, suited for both high octane playing and lower energy levels. It uses the familiar and reliable recipe of a figured maple top on basswood, with a hard maple neck and locking trem system. The controls couldn't be much simpler for a two-humbucker guitar – one volume control and a pickup selector.
Price: $1599.99 CAD
This instrument has sold
MORE

→