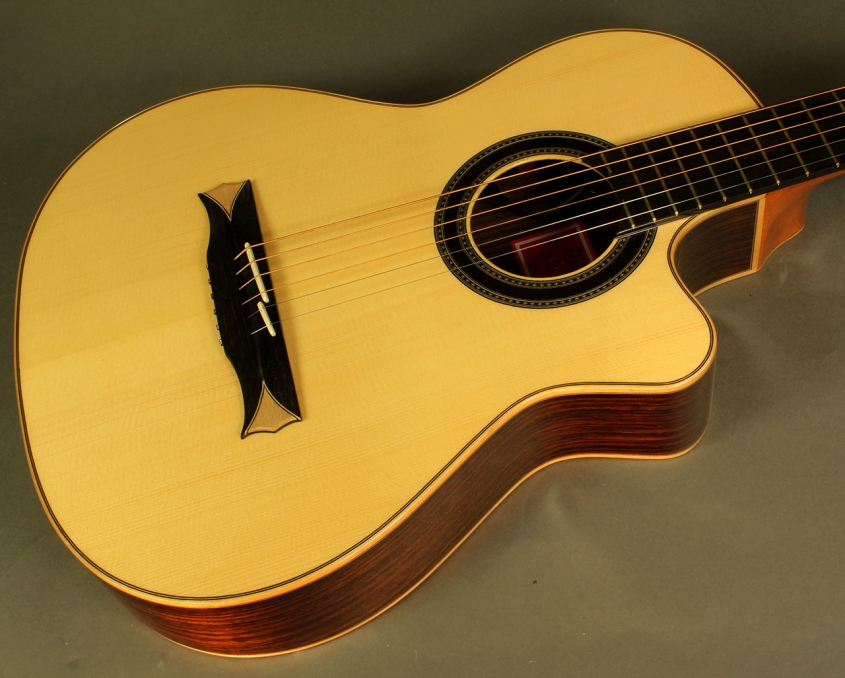 Comments
Alhambra Guitars of Alicante, Spain is the benchmark for quality in Spanish-made classical guitars.

We have represented Alhambra for 20 years now and are very impressed with their build-quality and their determination to constantly improve their models and finishes.

We carry over 25 models of Alhambra classical guitars and along with Ramirez Guitars they are our most popular entry level and advanced player nylon string guitars.

Interestingly, Alhambra also holds a major place in Europe as builders of fine steel string guitars.

The Alhambra steel string guitars have "flown under the radar" here at The Twelfth Fret until recently when the new Crossover Steel string caught out eye.

This finely built guitar, the Alhambra Crossover Steel string model – CSS-3 CWA E5 is unique in the world of cutaway steel strings; unique in design, body shape, neck contour, tone and overall feel.

These guitars have a special niche in a diverse world of cutaway steel strings.

Based on the CS-3 Classical Crossover model (see link below) the body depth and displacement is essentially identical to their classical guitar body but braced for steel strings.

The specialized top bracing is a variation on Alhambra's patented Professional-series top bracing pattern; utilizing a mix of A main braces, fan braces and longitudinal suspended braces. This bracing pattern provides the necessary strength but allows for increased bass response. Alhambra has really done their leg-work on this new bracing pattern and the increased tone and volume reflects their success in this new design feature.

They use substantial top reinforcement around the rosette to resist the top dishing one often sees on steel string guitars in the soundhole area. Very smart design !

Cosmetically the guitar is lovely; European Spruce top, AAA Rosewood back and sides, bound in maple with an ebony fretboard fitted to a mahogany neck. In tribute to its classical roots, the neck has the inlay ebony back strip one sees on most classicals but like all modern steel strings it is fitted with an adjustable truss rod, accessed through the sound hole.

The rosette is dark and mysterious…austere for a Spanish design and compliments the overall elegance of the guitar. Gold tuners are a proprietary tuner, smooth feel with Ivoroid buttons.

Pickup system is the Fishman Prefix Premium Blend system with adjustable notch filter. Fishman has especially adapted their saddle system to fit the intonated split saddle bridge that Alhambra uses.

Specs:
– All solid woods
– 25 ½" scale length
– radius fretboard
– 1 7/8" nut width
– Split saddle for more accurate intonation
-slotted peghead
– Classical "low displacement" body; 3 ¼" deep: upper boute 10 7/8, lower boute 14 5/8"
– Fishman Prefix Premium Blend: dual source system: mic and Piezo with notch and tuner
– Italian made factory Alhambra hardshell case

Tonal notes: The 12fret neck joint moves the bridge well back from the sound hole resulting in a fuller bass response than one would expect from a guitar of this body size.
Sounds nicely balanced when strummed but when finger-picked this guitar really has legs !

Lovely full bass response, even with a very light right hand attack. Trebles are rich and complex and vibrato in the upper frets is full and shimmers nicely. Upper fretted notes balance nicely against full open bass strings for technical players, especially finger tapping technique.

An ideal fingerstyle guitar for a gentle, light right hand fingerpicking attack.

And for me, this body size is one of the most comfortable guitars to sit with.

Love this guitar !!

Grant MacNeill

Related links
The Alhambra Crossover CS-3 CW-E5
The Alhambra page for the CSS-3 CW A
Videos at the Ahlhambra site.

Serial Number
Varies as new. Built at the Alhambra facility in Alicante, Spain.
Pricing
$1989.00 CND with case.
Neck
Mahogany neck with unbound, radiused ebony fingerboard.
Frets
12-fret neck with standard nickel silver frets.
Body
Solid rosewood back and sides, solid spruce top with maple binding. Ebony bridge with maple inserts, split saddle for improved intonation.
Finish
Gloss finish
Hardware/electronics
Fishman PreFix Premium Blend with adjustable notch filter.
Playability/Action
As with all Alhambra instruments, the Alhambra Crossover Steel string model – CSS-3 CWA E5 plays very well as delivered and we will of course set up the guitar to the player's requirements.
Case
Hardshell case include.
Here's a clip of Mike McAvan demonstrating this guitar.

---
You can preview our videos now on Our YouTube Channel!
You can now Visit our Facebook page!
Model: CSS-3 CWA E5
Year: Current
Class: New
Country of Origin: Spain
Condition: Brand New
---
---
Contact The Twelfth Fret Regarding This Item