Instrument Categories: Banjos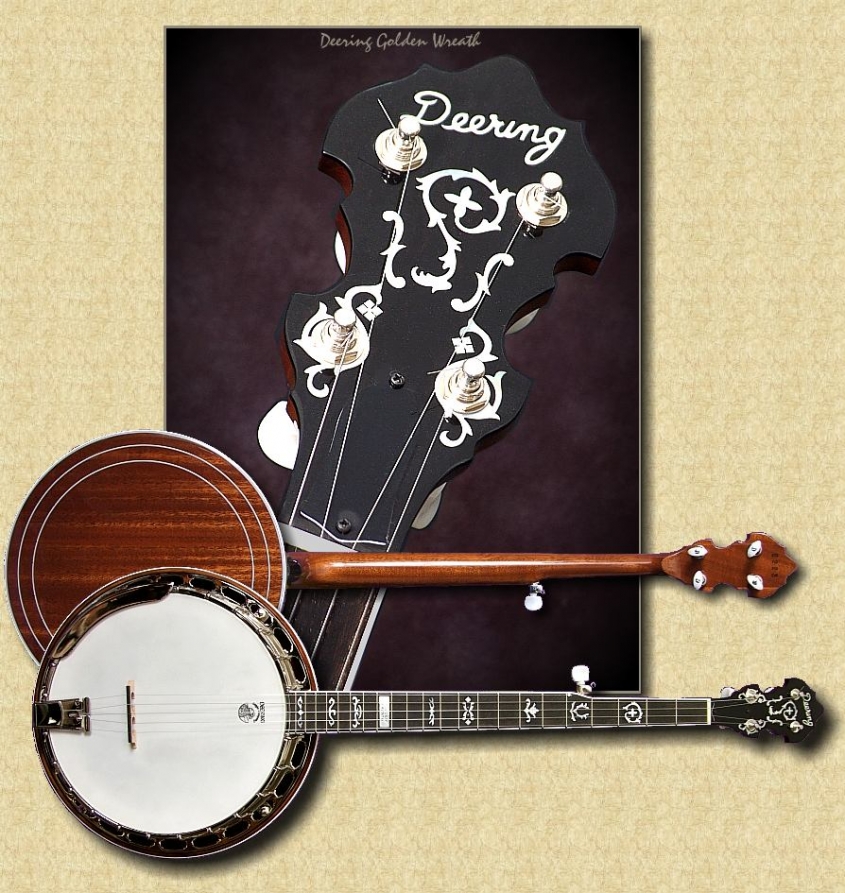 ---
This Deering Golden Wreath 5 String banjo is a beautiful instrument that is an accurate reproduction of the classic banjos of the 1930's, but at a fraction of the originals cost.
The mahogany neck is highlighted with ivoroid binding, and duplicates the feel of the originals in neck width, depth and the taper from nut to heel. Mahogany gives you a crisp yet sweet tone that makes playing the banjo a pleasure and a joy.
The two way adjustable truss rod is smooth, accurate, easy to use, and ensures superb playability without buzzing which allows players of all styles to adjust the banjos action to their own unique requirements. The glued in frets ensure perfect fretting accuracy, long term stability and ease of re-fretting.
The unplated 20-hole genuine Deering bronze tone-ring that is fitted to the 3-ply rock maple rim is an exact replica of the most sought after pot configuration of the famous 1930's banjos. The cast one piece resonator flange is the exact zinc alloy with the same mass and design of the original; these are the key ingredients to achieve the classic sound.
The deep mahogany resonator has two concentric rings inlaid into the back. The depth of the internally tapered side walls is to the exact specifications of the originals, and gives that rich, hollow character that is so desirable; making the banjo more responsive, clearer and helps highlight the bell like harmonics that banjoists need and want.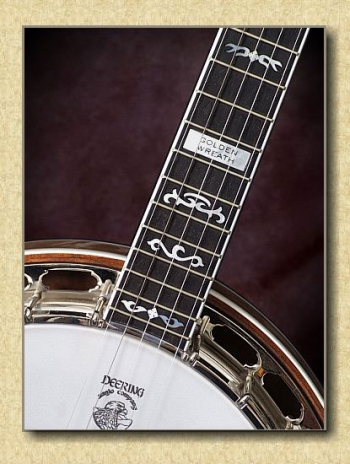 Specifications for the Deering Golden Wreath 5-String Banjo
* 1 3/16″ wide bone nut
* bound ebony fingerboard
* traditional 'Wreath' peghead & fingerboard inlays
* mahogany neck
* extra deep mahogany resonator with double marquetry rings
* 20-hole bell bronze Deering tone ring
* 3-ply rock maple rim
* one piece cast zinc flange
* gloss finish
PRICING: $4659 Canadian dollars, or $3669 US dollars, based on 1.27% exchange rate.
NOTE: Exchange rates change daily!
A Deering hardshell, archtop case is included.
View our post on the Deering Golden Wreath Banjo in Walnut here!
---
Check out Grant's Banjo Setup Q&A
You can preview our videos now on Our YouTube Channel!
You can now Visit our Facebook page!
Price: $4659 CAD
Model: Golden Wreath
Year: Current
Class: New
Condition: Brand New
---
---
Contact The Twelfth Fret Regarding This Item