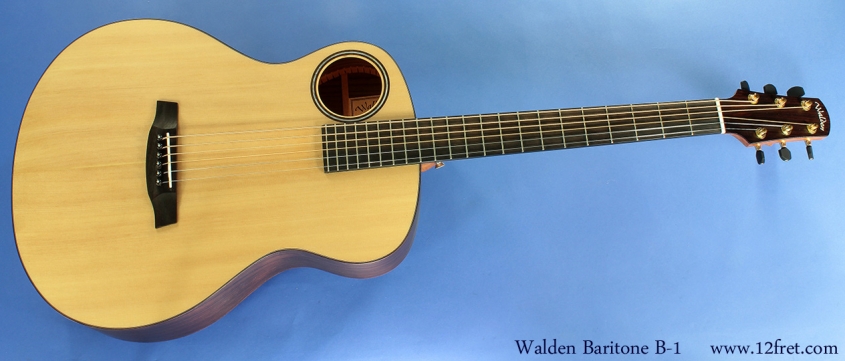 The Baritone B-1 Acoustic Guitar from Walden has been discontinued. We're maintaining this page for reference.
At last, an affordable Baritone guitar !
For years, I've been convinced that many guitar players would love to add a Baritone guitar to their stable of guitars but were held back but the high price tag of these specialized instruments. Over the past few NAMM shows I've made it my mission to find an "offshore" guitar maker willing to produce a low priced Baritone guitar…but on a limited basis. Many were agreeable provided I could order several hundred guitars !
During the search I had the pleasure to meet Jonathan Lee, the head Luthier in charge of new design at Walden Guitars. Jonathan lives and works from Oregon and is involved in most of the development and quality control systems at the Walden guitar factory in China. Jonathan and I spoke at length about my ideal Baritone features and price limitations.
I promptly forgot about it and went on with life — little did I know but Jonathan set things in motion with preliminary designs and 18 months later, this guitar is now in production.
Needless to say, I am very pleased with the quality of woods, materials and tone and more than that…I'm thrilled with the low price!
And soon we will see the same guitar with pickup, the B-1E fitted with a Fishman Prefix Pro pickup system with side-mounted console at
Read about the Walden B-1E Baritone Acoustic Electric here
Specs: The B-1 is a standard Baritone guitar, tuned down one 4th; "B to B" using the same intervals as a standard acoustic guitar: B-E-A-D-F#-B.
To improve bass output, the offset sound-hole frees up more
Sound-board surface in front of the bridge to vibrate fully at the frequencies produced by the Low-B 6th string.
A side-port has been added to boost bass response further. Walden theorizes that the added side-port allows the sound-box to vibrate more freely, similar to the principal of porting on speaker cabinets. Many of high-end handmade classical and steel string guitars routinely come with side-ports and the added bass boost is clearly audible.
Walden uses the best materials throughout — solid Sitka Top with laminate rosewood back and sides. Frankly I am convinced that much of the full bass response is due to the reflective qualities and the rigidity of the laminate back and sides. Plus, lamination keeps the price down.
The finish is satin Nitrocellulose lacquer. The fretboard and bridge are an unnamed tropical hardwood similar to rosewood. The body is tastefully trimmed in a rosewood binding with added abalone trim on the sound hole rosette.
Body shape is Grand Auditorium; scale length 26 ¾", nut width 1 13/16"
Fits a standard Dreadnought 12 string case.
You can preview our videos now on Our YouTube Channel!
You can now Visit our Facebook page!
Model: Baritone
Year: 2012
Finish Gloss
Class: New
Serial Number: Varies as New
Country of Origin: China
Condition: Brand New
Date Posted: 19/12/2012
---
---
Scale Length: 680mm 26.75in
Nut Width: 47.6mm 1.875in
Contact The Twelfth Fret Regarding This Item