Starting in the late '70s, Saga introduced its Gold Star line of banjos. At the time, the major American manufacturer (who shall remain unnamed!) was going through some serious quality issues in their banjo line while Gold Star was actually improving on the traditional designs of the elusive 'Pre-War originals'! The Gold Star flange and tension hoop alloys were upgraded to avoid the impurities and metal fatigue of the originals and their vintage style 20 hole flathead tone ring was the envy of the industry!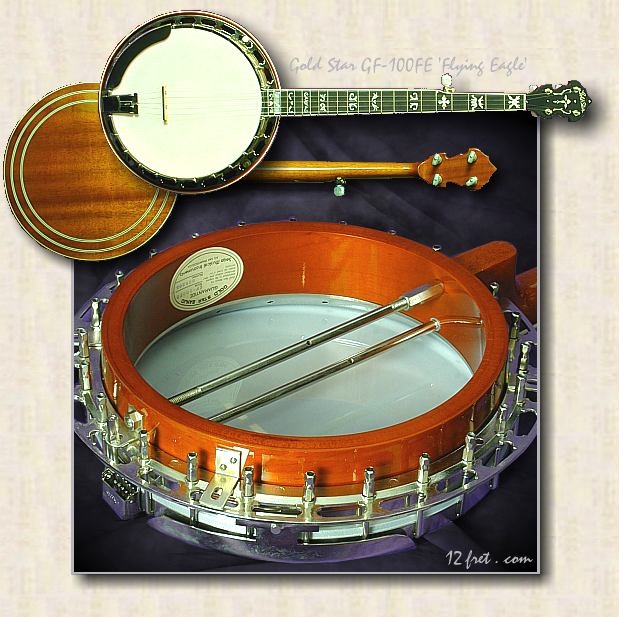 After a ten year hiatus, Saga has resumed manufacturing of the Gold Star line of banjos. Once again they have used the flathead banjos built in the 1930's as a template for their high quality instruments. Gold Star has captured the sound that drew players such as J.D. Crowe, Earl Scruggs and Sonny Osborne to this classic design!
After extensive research by the University of California metallurgy laboratories, Gold Star has replicated the exact formula of copper-rich bell bronze used by the most prized vintage banjos in the world. This tone ring is then precision fit to a 3-ply rock maple rim to create that classic pre-war sound!!!
Specifications:
* 1 3/16″ wide nut
* bound ebony fingerboard
* adjustable truss rod
* mahogany neck
* bound mahogany resonator
* cast bell bronze tone ring
* deluxe 3-ply rock maple rim
* double coordinator rods
* single piece die-cast flange
* Presto tailpiece
* triple nickel plated hardware
* deluxe reissue Gold Star hardshell case
GF-100W : ' Wreath ' inlay pattern
GF-100FE : ' Flying Eagle ' inlay pattern
GF-100HF : ' Hearts & Flowers ' inlay pattern
Check out Grant's Banjo Setup Q&A
You can preview our videos now on Our YouTube Channel!