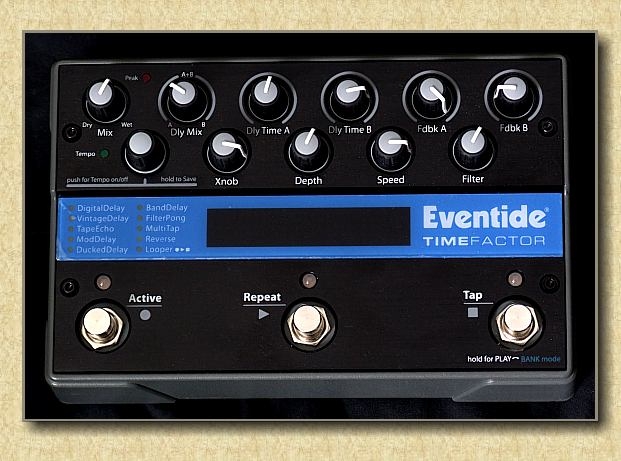 Guitarists have always wanted the quality and flexibility of rack effects but have no patience for the programming and complexity of the set-up. Eventide has always been the leader in studio quality effects that have long been the industry standard and favorite of player like Jimmy Page, Frank Zappa, Brian May, Eddie Van Halen, Steve Vai, Robert Fripp, John Petrucci, and Andrian Belew. Today, they enter the stomp box market poised to obliterate the competiton.
The Time Factor feature 10 Stereo or Mono Delay effects like Digital Delay, Vintage Delay, Tape Echo, Mod Delay, Ducked Delay, Band Delay, Filter Pong, MultiTap, Reverse and Looper funtion. It offers real time tweaking control via the ten onboard knobs, via midi and also by expression control. Right out of the gate, there are 20 user locations that are unlimited through the MIDI options.
This super/uber delay pedal is designed to work with any system. Whether it be placed in the loop or at the end of a long pedal chain, the Time Factor offers flexibility and adapts to any set-up thanks to an impedance switch on the input and output section. The illuminated display offers a bright readout for dark stages and the all-metal chassis offer tank-like ruggedness. This is by far a staff favorite right now and is selling fast. One listen…you'll hear why.