Red Witch is a small company based in a small town on the west coast of the north island of New Zealand. CEO and designer Ben Fulton decided to star producing pedals due to a long lasting love affair with analog guitar equipment and the continuing search for new sounds.
Red Witch strives to blend art and technology into their pedals that will inspire players both sonically and visually. They are dedicated to creating new and unique pedals not clones!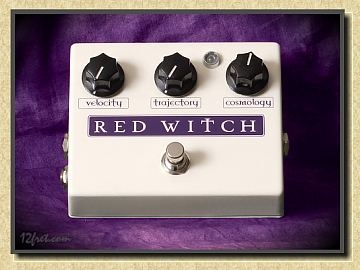 Red Witch Deluxe Moon Phaser
With a warm and transparent tone referred to as "spatial sparkle," one listen to this dynamic celestial effect is all it takes to understand its name. The Red Witch Deluxe Moon Phaser is an analog phase/tremolo pedals that has a unique combination of the two effects called tremophase. From slow luscious phasing to a fast 3D shimmer tremolo there is a vast array of tones to be had through three simple controls.
Velocity controls the speed of the phase and tremolo, trajectory controls the shape of the phase and cosmology lets you choose between four phaser sounds, one tremolo and one tremophase.
The internal bias adjust modification allows you to further shape your tone by setting the phaser emphasis to more "shimmery" or more "throbby." All you phaser fans should try this one out and let it take you to the dark side of the moon and back!
You can preview our videos now on Our YouTube Channel!
You can now Visit our Facebook page!