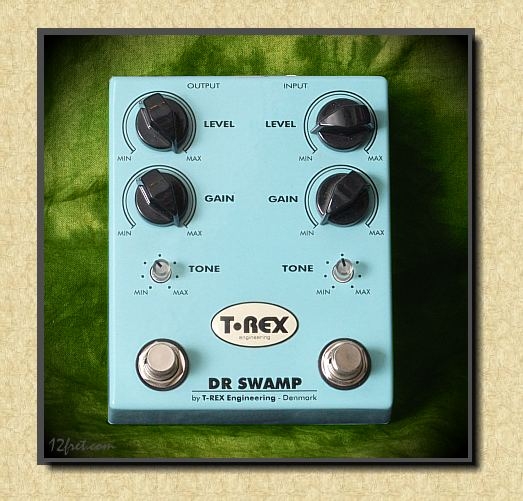 T REX Dr Swamp
I've always loved dirt pedals. Even though most of my gain and overdrive come courtesy of my trusty Koch Powertone and my VHT (now Fryette Amps) Pitbull, I still have a fascination with little boxes that make guitar sounds ugly. It's really an obsession.
Like most guitarists out there, I own a plethora of distortion pedals but always seek out funky old gem and the latest in gain train devices. Here we have the Dr. Swamp. Immediately, you'll notice that there are two individual voicings on this pedal…yep, that means two distortion sounds can be accessed.
The overall pedal tone is very versatile and controls are very intuitive with the simple Gain, Level and Tone knobs along with two on/off switches. Individual settings can be dialed in and remote accessed via the pedal thus turning a meager one-channel amp with a clean sound into a versatile 3 channel set up. The overdrive tone ranges from tweed like grit to a full-blown modded JCM 800 style tone. I had a blast running through some of the songs on my cover band's (Left Of Eden) set list. The extreme settings will not get you into the Norwegian Black Metal territory but they will however get you an intense, versatile, chunky and sophisticated sounding pedal. The pedals fidelity is really amazing and doesn't give of the cold and sterile sound that some high tech pedals do. I had a blast running through some old UFO songs with this one at a Sixes & Sevens rehearsal where I pretty much nailed the pinnacle Michael Schenker tone.
You can preview our videos now on Our YouTube Channel!
You can now Visit our Facebook page!