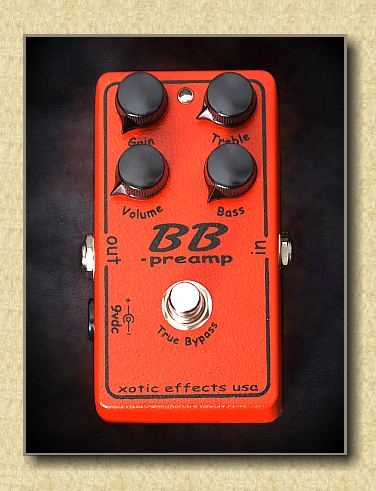 The Xotic BB Preamp offers awide variety of sounds. It's not only capable of a 30dB+ clean boost with an adjustable ±15dB two band active EQ which adds a wide range of harmonic content to your ideal sound, but it also works well as a killer distortion pedal.
The BB also utilizes a pre-gain stage which allows the Pedal to go from a very pristine clean to a very smooth, compressed, high gain overdriven sound. Don't let the high gain badge fool you… this pedal can coax some of the more subtle tones needed in a pro guitarist's sonic palette. The true bypass keeps it transparent and quiet while preserving all of the tone and "juice" in your signal chain.
Upon first playing with it the BB Pre Amp, I was able to pull out some incredibly singing tones without fizzing out with too much gain. Fans of Eric Johnson and Allan Holdsworth take note…this pedal gets you pretty close to those holy grail/benchmark tone that those two guitar monster get at a fraction of the price of duplicating their rigs. It sassy, brassy and even can get nasty. The BB pre amp is definitely my fave of the three single pedals. Come on…30 db+ of clean boost? I'm all over that like stink on a monkey!
You can preview our videos now on Our YouTube Channel!
You can now Visit our Facebook page!