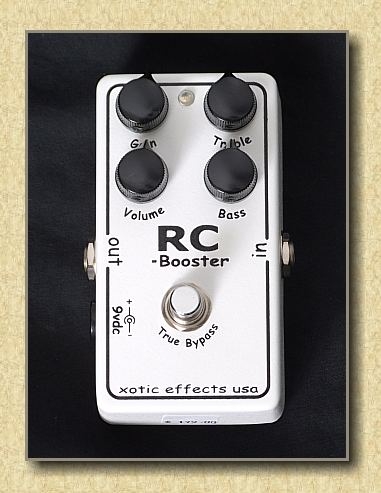 The Xotic RC Booster is a versatile boost pedal armed with active Treble, Bass ,Gain and Volume controls allow for limitless tone shaping. With the active EQ, this pedal provides more sweep from frequency to frequency. In its primary purpose, the RC Booster offers a super transparent 20db+ clean boost and a +- 15db 2 band active EQ without ever compromising the integrity of the original tone. No tone sucking here!!!
It works great as a killer solo boost or gain boost to add that bit more "hair" to your overdriven sounds. I was amazed when I plugged this bad boy into my holy grail Marshall JCM 800 2203 model. I was able to get that boosted high gain tone that seems to elude a lot of players trying to dupe the amazing sound that Zakk Wylde got on Ozzy Osbourne's "No More Tears" CD. The title track seems to have become a bench mark for heavy tone.
Being that it is very quiet and has tons of headroom, it also works great as a line driver/signal buffer for all of you running long lengths of cable or needing to boost a weak signal. The true bypass eliminates any signal interference and degradation when the RC Booster is switched off.
You can preview our videos now on Our YouTube Channel!
You can now Visit our Facebook page!