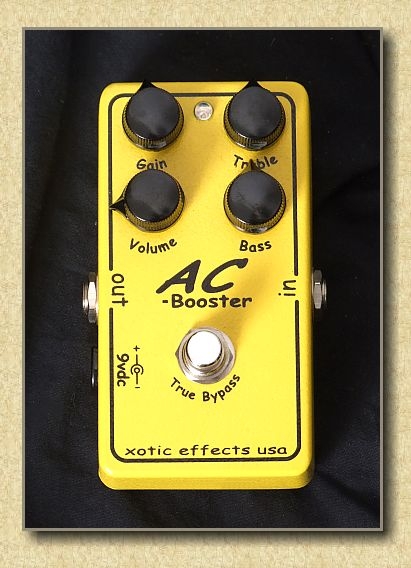 The Xotic AC Booster achieves a warm and pleasant sound with its transparent but never harsh circuit.
The super wide range gain control allows for enough gain for it to work as a distortion pedal when turned all the way up. The result is a harmonically rich Class A Matchless/ Bad Cat style overdrive meets a vintage Marshall JTM 45 tone.
The AC Booster also works well as a warm boost to kick an amp in the behind for solo boosting. The active EQ allows for limitless tweaking of tone and doesn't interfere or hinder the operation of the pedal by "cheesing" out your tone like on your run of the mill pedals.
The true bypass and quality parts, workmanship and execution of this pedal make it a welcome addition to our growing list of fave pedals.