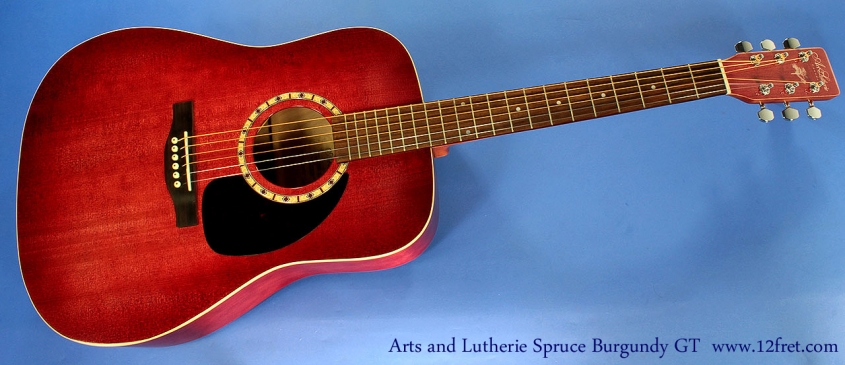 Art and Lutherie guitars are hand crafted in Princeville Quebec with 95% Canadian wood. All Art and Lutherie guitars feature a solid wood top of either cedar or spruce and a Wild cherry three layer laminate back and sides.
These solid tops are pressure tested to ensure the highest levels of stiffness and rigidity along with the maximum harmonic vibration. The top of any acoustic guitar produces the majority of its tone so having this component of the guitar made from solid wood is critical for sound and volume production.
Solid wood tops will start to age and sound increasingly better the more it is played over time. This model also features a Custom Varnish finish with a high gloss top and an integrated set neck which allows for more consistent and stable action through the changes in climate common to Canada.
This particular model is a dreadnought body shape which is great for big open chord strumming and aggressive picking as it produces lots of volume. If you are looking for a great beginner guitar or second guitar for under $500 you should check it out!
specs
Back & Sides : Wild Cherry
Neck : Silver leaf maple
Top : Spruce (Pressure Tested Solid Top)
Fingerboard & Bridge : Rosewood
Finish : Semi-Gloss Custom Varnish Finish
Tusq® nut & saddle by Graphtech
---
You can preview our videos now on Our YouTube Channel!
You can now Visit our Facebook page!