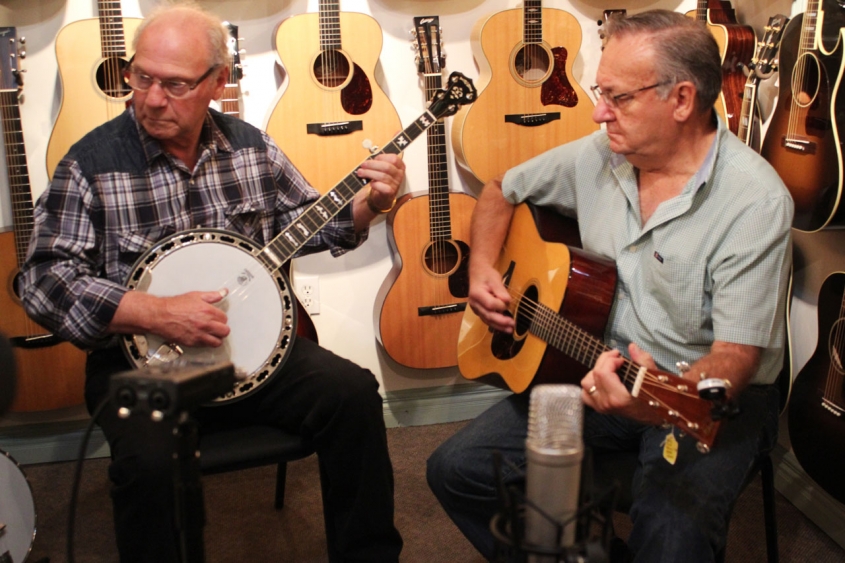 Recently, Ian Perry of the Banjo Newsletter magazine brought Canadian bluegrass legend Eddy Poirier and Gerry McCaie to The Twelfth Fret. Eddy and Gerry played four tunes on various Deering banjos and a Martin D-18. We were thrilled to have such great players come by and show off their skills.

Eddy Poirier was born in Rogersville, New Brunswick to a musical family - his father played the fiddle, mostly Irish reels and jigs.

Eddy started to play the fiddle at the age of 7, played lots of square dances for weddings, and at the age of 11 he got his first guitar. At about 19 he bought his first banjo, and he decided to moved to Toronto in 1966 where he became part of the beginning of the bluegrass scene in Toronto, joining a country band called The Blue Diamonds.

And that's where he started to record bluegrass, old time, and bluegrass music. During that period Eddy Poirier made multiple recordings, but in 1974 he decided to return to the Maritimes and Moncton N.B.

Here, Eddy started his own bluegrass band called 'The Bluegrass 4' .That band was pretty well the first bluegrass band in New Brunswick, and so it was the beginning of bluegrass in N.B. So now Eddy has about 15 recordings of old time and bluegrass recording of his own.

50 years later, Eddy Poirier still does plenty of playing and promoting Old time and bluegrass music.

We hope you enjoy Eddy Poirier and Gerry Mackay playing classic bluegrass tunes- Cripple Creek, Foggy Mountain Breakdown, Lonesome Road Blues and Weeping Willow.
Contact The Twelfth Fret Regarding This Item