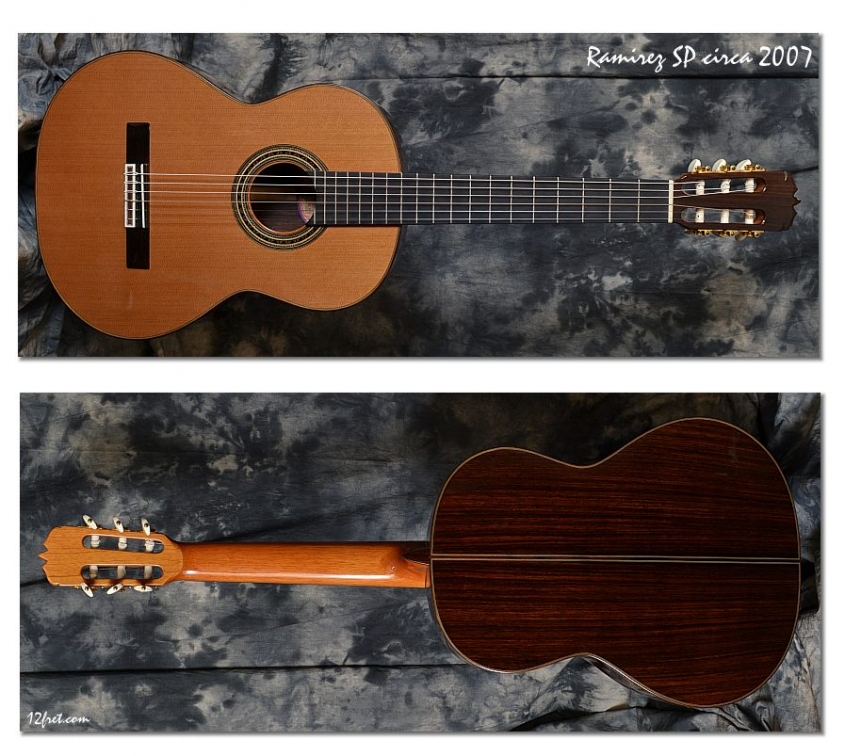 Serial Number: 021 circa 2007
Pricing: $2850. Canadian Dollars (approx.$2881.US$ as of June 2/2011) SOLD
Description:
This Ramirez SP from 2007 features a Cedar top, Indian rosewood sides and back, Spanish Cedar neck and Hauser style Schaller tuners.
Measured from the top of the twelfth fret to the bottom of the string, the action height is 8/64″ (3.2mm) on the treble side to 10/64″ (3.96mm) on the bass side.
At the saddle, there is 4/64″ (1.6mm) to 8/64″ (3.96mm) protruding above the saddle slot.
It is in great overall shape with only very minor wear and comes with a Hiscox flight case.
In 2002 we were thrilled to get our first Model SP guitars from Ramirez. The quality and tone of these instruments was remarkable. They sold in the French polish top versions at $4200 Canadian.
At the time, there were very few guitars of this quality available in this price range. See our web-site feature in 12fret archive written by Dave Wren in 2003:
http://www.12fret.com/new/ramirezSPpage.html
---
You can preview our videos now on Our YouTube Channel!
You can now Visit our Facebook page!