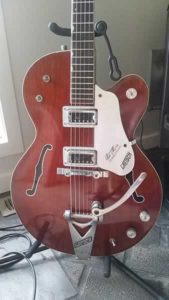 I came to Twelfth Fret with an all original 1967 Gretsch Chet Atkins Tennessean which I had purchased online. The guitar was barely playable, would not tune and was just a very expensive disappointment. After a consultation with Scott, he came up with a plan to see if this guitar could be brought back to life. After great communication, Scott put his skillful hand to work and gave me back one of the greatest guitars I have ever played!
I went from totally disappointed with this guitar, to it being one of my favorites. I don't know how Scott did it, but unbelievable. Great communication throughout the process, incredibly skillful work, and most of all just a real desire on Scott's behalf to bring this thing back to life as best he could. I went from having totally given up, to very boastful to own this guitar. Completely blown away.
Absolutely no hesitation bringing any future projections to Scott and the rest of the staff. Thank you so much!