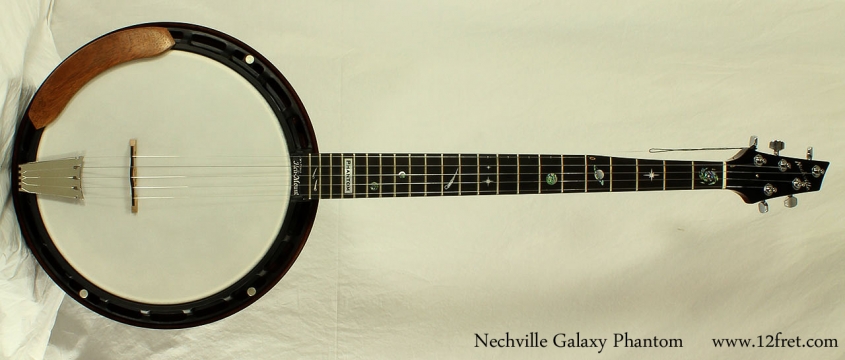 ---
Serial Number
Varies as new, built in Bloomington, Minnesota.
Pricing
$4890 Canadian dollars, or $3850 US dollars, based on 1.27% exchange rate.

NOTE: Exchange rates change daily!


Neck
Maple neck with unbound, radiused ebony fingerboard. 5th string tunnel; all the pegs are on the head. Ebony headplate with mother-of-pearl Nechville inlay, mother of pearl and abalone Galaxy inlay set on fingerboard.
Frets
22 medium frets.
Body
Maple tone rim and resonator. 20-hole pro tone ring, Cyclotronic head tuning sytem, Heli-mount frame.
Finish
Clear gloss finish.
Hardware/electronics
Right-angle high-ratio tuning gears, Nechville tailpiece and intonated bridge. Wooden armrest.
Playability/Action
As always, we will set up the instrument to the needs of the player.
Case
Hardshell, archtop 'Canadian' TKL case included.
Comments
We've just received a few more examples of Tom Nechville's work, including the Nechville Galaxy Phantom Banjo; these are some of the most advanced banjos in the galaxy. And as usual, they are very well made and great-sounding instruments.
---
You can preview our videos now on Our YouTube Channel!
You can now Visit our Facebook page!
Check out Grant's Banjo Setup Q&A