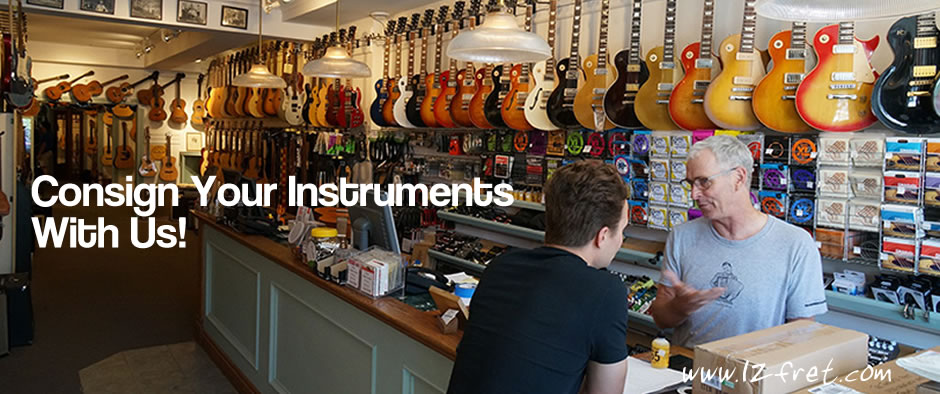 We sell over 800 instruments every year on consignment.  Your instruments – guitars, banjos, and amps are quickly posted on our website and viewed by our clients world-wide.
The Twelfth Fret welcomes consignment instruments. Over the past 40 years we have helped our clients to find buyers for many thousands of vintage and used guitars, mandolins, banjos, ukuleles, amplifiers and a host of other instruments.
Consignments keep our inventory fresh and interesting with a variety of rare and gently-used instruments.
Our busy shop has a steady traffic of local customers and visitors from abroad. Our client base deals with thousands of players and with roughly 15,000 daily views on our website we are well equipped to sell your instrument.
Our formal consignment contract outlines:
    The Selling price
    The Payout price to the consignor
    Any applicable repair or service costs that are agreed to by the consignor.
    Details and specifications on the instrument that our staff need to know in order to knowledgeably advise potential buyers.
Chris Bennett is our vintage guitar specialist, he acts as our chief appraiser on vintage instruments and amplifiers.
Pricing
We help the consignor establish a realistic resale price-range for the instrument. The final price will depend your on circumstances and how quickly you want to sell your instrument.
Commission
We charge a 20% sales commission for consignment instruments valued at $1000 and UP. We charge a flat rate of $200 for instruments valued at under $1000.  Vintage effects pedals are looked at differently and the flat rate can be examined.
We ask that the instrument remain here for a minimum of 60 days. An administrative fee of $200 is charged to the consignor if an instrument is removed before 60 days. Most instruments turn over in the first 30 to 60 days.
Selling
Our sales are based on in store customer sales and our worldwide online sales and shipping service. We feature new consignments in the "just in" section of our website  and on Instagram and Facebook.
While on consignment, all outside advertisements for the instrument are to be directed to the Twelfth Fret for purchase.
Any instrument sold outside of the Twelfth Fret while on consignment at the shop will be charged the $200 administrative fee.
Consignment Payouts
A cheque to the consignor is generally issued on the following Wednesday after its sale.  Alternate arrangements can be made to wire funds to any bank or convert the 'payout' to an in-store trade-in credit.
Please contact us  for any further questions, inquiries or to check the status of your existing consignment.
Regards,
Grant MacNeill